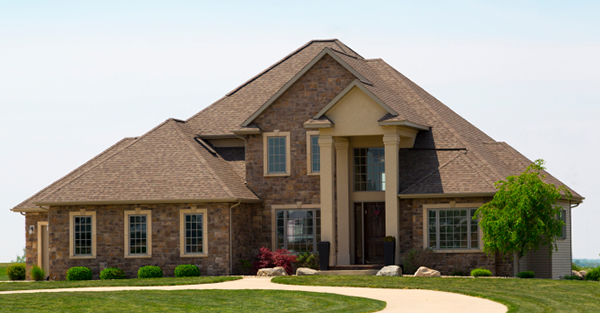 In the previous post, we discussed some of the siding products and brands we offer our customers, including both vinyl and fiber cement. Today, we will discuss stone and steel siding. Each has many advantages. Although there are distinct differences between the two, one isn't necessarily superior to the other. Which is best for you depends largely upon your own personal taste and the style of your home.
Eldorado Stone
Eldorado Stone was founded over 40 years ago in Washington State. Over the years, they have become known for their beautifully manufactured architectural stone veneer, amazing customer service, and high quality products. They are now known as "a leader in quality and innovation in the U.S. and around the world." They provide customers with numerous style options, many available in multiple colors. Some stone of their styles include Ashlar, Cliffstone, and Limestone. Click here to view them and to see their full range of options available in Iowa. When choosing your siding materials, consider blending two types of stone to create a personalized look and feel for your home. With multiple textures and color options available, you can create visual harmony while giving your home a distinct look. Eldorado Stone allows homeowners to get creative and individualize their homes as much as they desire. Besides being distinctive, stone is also durable, requires very little maintenance, offers insulation and protection against weather, and is a renewable resource.
Hedrick Construction's Landmark Stone, produced by Glen-Gery, comes in a wide range of colors and profiles. Glen-Gery was founded in 1890 and has built a reputation for its superior line of manufactured stone veneer. Eight different stone profiles are available, including Stackstone, Ledgestone, Cut Cobble, and Fieldstone. Their stone siding has a natural and authentic appearance. Aside from their siding, Glen-Gery also offers accessories for the home's exterior, such as wall caps, sills, and keystones. Explore the many Landmark Stone options available here.

EMCO Building Products
EMCO Building Products is another leader in the home improvement industry, offering a wide range of materials: steel siding and accessories, shake and shingle accent siding, soffit and fascia systems, rain-carrying systems, and related aluminum trim products. All products are made in the United States. EMCO is located in North Dakota and has been around since 1989. Steel and aluminum are composed of 95-100% recycled material. The life expectancy is much longer than siding made of wood, fiber cement, or vinyl. Steel siding and aluminum soffit are 100% recyclable, making them extremely eco-friendly options for the home.
EMCO's steel siding options come in a variety of colors and profiles. The paint finish used on EMCO Preserve Steel Siding is enhanced with an outer coating that is scratch and stain resistant, and the pigment is designed to improve the energy efficiency of your home. Another type of steel siding available is Weatheredwood, a two-tone woodgrain texture siding. EMCO's steel shingle siding also has the appearance of real woodgrain. It can withstand high winds and hail damage, and its paint finish repels water, oil, and other outdoor elements. Steel shake siding, another option offered by EMCO, has a deeper texture, and more visible shadow lines than traditional shingles.

For more information about the benefits of brick and stone siding, check out our blog, The Advantages of Brick and Stone Siding. To learn more about fiber cement, take a look at The Benefits of Fiber Cement Siding.
If you have questions about any of our siding materials, or any of our products or services in general, give us a call at (515) 597-7663, or click the button below to fill out an online form. If you are planning to have any remodeling or siding replacement done to your home in the spring, now is a good time to schedule an appointment to beat the rush after the winter season. We proudly serve the Ames, Huxley, and Ankeny areas.