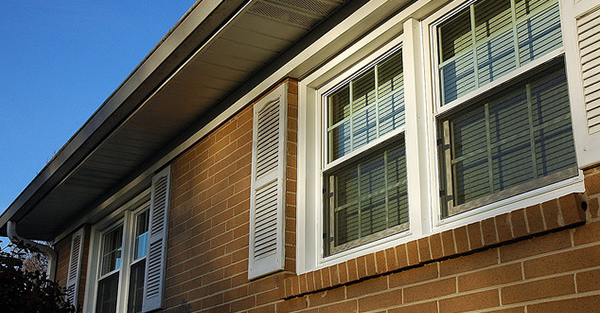 Hedrick Construction offers only the best when it comes to high performance, energy efficient windows. With brands like Marvin, Envirosealed, Alliance, and Ply Gem, customers' expectations are sure to be met and exceeded.
U-Factor: The U-factor is an expression of overall heat transfer rate. It is a measure of the amount of heat gain or loss through a material, such as glass. The lower this number, the better insulation value and higher airflow resistance a material has.
Envirosealed Windows
These highly efficient windows stand strong in stifling heat and bitter cold conditions. They are able to hold up during high winds and extreme weather due to their insulating glass spacers that seal windows tightly, allowing them to last longer and provide optimum energy savings. Spacers surround, trap, and retain argon gas, which improves insulation and keeps moisture out, leaving your home warm in the winter and cool in the summer. This technology allows for a remarkable and impenetrable barrier to minimize energy loss and prevent gas, water vapor, and other elements from entering the home. These spacers also keep the window surfaces at a higher temperature, admitting less cold air in the winter. This "warm-edge insulating glass spacer" is able to improve the window's U-factor by up to 10 percent.
Marvin Windows
Marvin has been known for master craftsmanship, dedication, and knowledge throughout history. They offer a vast variety of window options, shapes, styles, and sizes to fit your individual tastes. Their creed is, "never compromise on quality." They guarantee excellence when it comes to both service and products. Marvin is committed to keeping its products environmentally sustainable, centering their designs specifically on that value.
Alliance Windows
Alliance Window Systems emphasizes quality and environmental-friendly practices and materials. Their regional fabricators are meticulous and exceptional at their craft, bringing customers the best of the best. The window technology and sealing ability utilized will guarantee effectiveness and lower energy use for your home. No finishing or additional maintenance is required for these windows once they are installed. This eliminates the need for additional chemical use or sanding, keeping the environment healthy and clean for you and your family.
Ply Gem Windows
These beautiful windows make for stunning additions for your home, enhancing the look and view from both inside and out. Ply Gem offers a large range of options, tailor-made for any individual project or budget. These windows offer durability, energy efficiency, and style. Ply Gem is focused on customization, providing customers with exactly what they want and need to make their home visually stunning to all passersby. Whether you live in an older, comfortable home, or a brand new one, Ply Gem can take into account your budget, architecture, and style to provide you with an aesthetically pleasing and highly innovative solution you will love.
Energy Star
Energy Star is a U.S. Environmental Protection Agency and U.S. Department of Energy joint program. They ensure that products meet strict energy efficiency standards and guidelines. In order to pass the test, windows must meet a government-determined U-factor that is regionally specific. Replacing old windows with new, energy-efficient ones could save you approximately 15 percent on heating and cooling costs! By choosing products that meet or exceed Energy Star requirements, you will lower energy costs by reducing energy consumption in your home. Your monthly utility bills will be lower, AND you will be protecting the environment through less carbon emission. Envirosealed, Marvin, Alliance, and Ply Gem Windows are all Energy Star certified and committed to the highest of standards in the window industry.
Hedrick Construction offers a spectrum of beautiful window styles, quality craftsmanship, and expert installation. We only use superior brands such as Ply Gem, Alliance, Envirosealed, and Marvin, so we know that you will be happy with the finished product. We pride ourselves on providing skilled installation that exceeds our customers' expectations for quality and service.