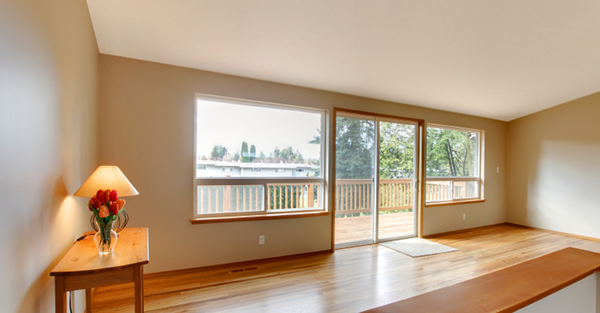 Sliding glass doors can be a beautiful home addition for you and your family. There are many benefits to installing these aesthetically pleasing doors in the home. They maximize natural lighting, increase airflow, and facilitate the flow of traffic to and from the house.
1. Light: The large glass panes in sliding doors allow a lot of natural sunlight into the home during the day. With panes running from the ground up to the top of the door panel, you may not even need to turn on any lights in the house during the day! This helps turn your home into an energy-saving zone and cut down on your monthly utility bills. At the same time, the natural lighting makes your home more welcoming and inviting.
2. Air: Having a large door at one end of your house can make a world of difference in airflow and circulation. Open the door and let in the fresh breeze to air out your stuffy home this summer. If you have small or few windows, the air circulation throughout your home may be lacking. With a sliding door, the space is big enough to let in large surges of air, cooling the home and improving the air quality, smell, and feel. It can also increase your home's energy efficiency by reducing your need for air conditioning.
3. Traffic Flow: These larger doors allow for greater traffic flow to and from the house. They are good for get-togethers with family and friends or BBQs in the backyard. They are easy to operate, durable, low maintenance, and easy to clean. Sometimes you may have large objects that need to be moved into or out of the house such as couches, beds, toys, tables, or desks. The door's larger size allows for easy navigation and access. They can be twice as wide as regularly sized entry doors.
4. Appearance: Sliding doors can add beauty and elegance to the home. The many choices available include eco-friendly and energy-efficient options. Choose a door that can add to the charm and personality of your home. By replacing a solid wall, sliding doors can get rid of that small, cramped feeling and make a room appear more spacious.
5. Space Maximization: Sliding glass doors can create an optical illusion, much like mirrors, that makes the space seem larger than it really is. In addition, sliding doors actually save space in your home. Because they slide one over the other on a track rather than swinging out when opening like hinged doors, you don't have to make space around the doorway for them to be able to open.
6. View: When you add any large window, you are making nature and the outside environment more a part of your home. Whether you have a beautiful garden or backyard outside your sliding glass door or pavement and cityscape, the view to the outdoors will be at your disposal 365 days a year. Sliding glass doors are particularly helpful to parents of young children because they make it easier to keep an eye on little ones and keep them safe while they play outside.
7. Additional Features Available: Many homeowners are hesitant about adding a sliding glass door because they think it will lower the energy efficiency of their home. Installing double-pane glass, which is much more efficient than single pane glass, will help keep your utility bills down. Certain doors are also manufactured with argon gas between the two glass panes which acts as an insulator, keeping the cool air inside during the summer and the heat out. Glass can also be coated or glazed to further improve its energy efficiency.
Hedrick Construction can assist you with professional advice and installation for sliding doors or windows for your Story County area home. If you are considering either of these options and live in Huxley, Ames, or Ankeny, give us a call today.