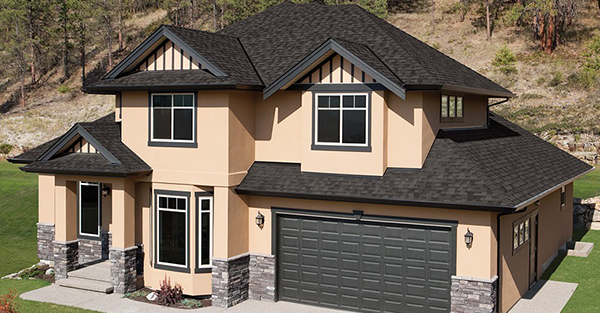 If spring and summer storms have taken a toll on your home, or if it's just time to get your roof replaced, you may be overwhelmed by the number of roofing options on the market. A stylish, affordable choice is architectural shingles. Here are 5 reasons architectural shingles are a great option for your Iowa roofing needs.
Architectural Shingles Are Great Looking…
Architectural shingles are similar in construction to traditional asphalt shingles, but they look much different. They are offered in a wide array of color, texture, and pattern choices, customizable to fit your tastes. The three-dimensional pattern of these shingles can also be crafted to look like expensive slate, cedar shake, or tile roofs. Their depth and texture gives them a high quality appearance without the maintenance hassle or expense. They have a distinctive look that can enhance your home's beauty and curb appeal, giving a sense of age and character to new construction homes and a timeless appeal to older ones.
…For a Great Price
These high performance shingles cost far less than slate or shake roofing. Although they usually cost around 20-30% more per square than 3-tab shingles, they can potentially pay for themselves over time due to their longevity and durability. They last longer and require less maintenance and replacement than 3-tab shingles. Warranties on architectural shingles typically last 30-50 years, while standard shingle warranties last only 20-30 years. For the highest quality architectural shingles, warranties can last up to 75 years! (Different manufacturers offer different benefits, so be sure to talk with your roofing contractor about the warranties specific to your shingles.)
Withstanding Iowa Weather
The biggest benefit of architectural shingles, though, is their durability. They are sturdier and heavier than 3-tab shingles. Standard asphalt shingles contain a single layer of material on top of a fiberglass or cloth mat, while architectural shingles are made from multiple layers of material, refined asphalt, and granules laminated together. Due to their thickness and composition, they have a much higher wind resistance than traditional shingles. Some are able to withstand up to 120 mph winds, versus standard shingles that can typically resist only 60-80 mph winds. Architectural shingles also provide better fire resistance than standard composition shingles (helpful if lightning strikes your home) and are less susceptible to hail damage. This makes them perfect for Iowa's unpredictable weather, all year round.
Appropriate for All Roofs
Unlike slate, tile, or stone roofing materials, architectural shingles are easy to cut and fit into corners and crevices. This makes installing them easier than many other roofing materials. Unlike traditional asphalt shingles, architectural shingles don't need extra support built under them, so despite being heavier, they actually lighten the load on the roof. This makes them appropriate for a wide variety of ages and styles of housing, whereas some older homes may need significant shoring up before installing a slate roof. They can also be installed on high sloped roofs to enable water and snow to slide off easily—a bonus in the Iowa winters.
Improve Your Home's Energy Efficiency
The type of materials you use for your roofing can actually have a big impact on your energy costs. It's a matter of basic science: The hotter the roof, the more energy it takes to cool the building beneath it—a vital consideration in the sweltering Iowa summers. Architectural shingles are engineered to remain cooler than traditional asphalt shingles by deflecting more light and providing added insulation. This means that it will cost less money to heat and cool your home, which will stay more consistently comfortable.
Architectural Shingles for Ankeny, Ames, & Huxley Homeowners
When deciding on architectural shingles, it's important to compare the benefits of each brand before making your purchase. Look for industry standards, such as an Underwriters Laboratory certification, and talk to local homeowners. Above all, ensure you're using experienced contractors who are well versed in choosing and installing architectural shingles.
Hedrick Construction is proud to be a Platinum Preferred Contractor with Owens Corning, which makes top-of-the-line quality architectural shingles in a variety of styles and options. Their architectural shingles withstand the tests of time and extreme weather conditions while adding beauty and character to your home.
Hendrick Construction is Central Iowa's leading roofing contractor. If you live in or around Story County and are considering re-roofing your home, contact us! We can help you choose the perfect architectural shingles or any other type of roofing shingles. For a free inspection and a no-obligation estimate, click below or call us at (515)-597-7663.