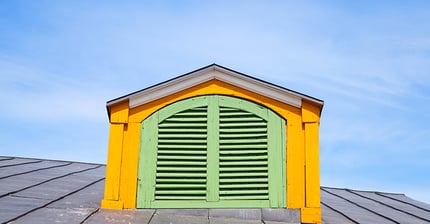 According Remodeling Magazine's 2016 Cost vs. Value report, the remodeling market is growing overall. People are starting to purchase more expensive homes, working to meet higher energy efficiency standards, and willing to spend a little more on home improvement projects to increase curb appeal and indoor comfort. On average, the 30 most rewarding home improvement projects brought in an average of 64.4% return on investment for homes that were sold within one year. This is an increase from the 2015 report, which announced the average ROI to be 62%.
This year, the project at the top of the list, offering the highest return on investment, is fiberglass attic insulation! The national average ROI in the U.S. for a fiberglass insulation upgrade is a whopping 116.9%, meaning this upgrade more than pays for itself. The average national cost of installing blown-in insulation in an attic is $1,268, and the average of a home's retail value increase for this project is $1,482.
How Fiberglass Insulation is Added to an Attic
Adding blown in insulation to an attic space is a fairly simple, straightforward job for a professional with the right equipment and knowledge. It should be done by a professional; this is not a DIY project. A professional should seal air leaks in the attic floor to keep the conditioned air down below (in your living space) out of the attic (an unconditioned space) before adding insulation. Once air leaks are sealed, the installer should typically add fiberglass loosefill insulation to the attic until it reaches an insulation value of R-30 (maximum thermal performance). This number may vary among different regions in the nation and depending on individual circumstances.
Why Fiberglass Loosefill Insulation?
Most of us have at least some insulation in our attic spaces; though, in many cases, it's inadequate. Loosefill insulation can be added on top of existing insulation. It can fill in any gaps and fit into irregularly shaped areas, unlike other types of insulation like batts and rolls, which aren't as flexible. Fiberglass insulation is often less costly and more energy efficient than many other types of insulation. It is made of recycled and renewable materials and is resistant to mold and moisture. It has been thoroughly tested and proven to be a safe and effective insulator.
Atticat Insulation from Owens Corning
Hedrick Construction installs PINK Fiberglas loosefill insulation. This insulation is installed with a blowing machine that breaks up and fluffs the pieces before blowing them into a space. Loosefill insulation gets its insulating power from the millions of tiny air pockets that are produced as the pieces are blown into place. This insulation does not settle, meaning it will keep its high R-value over time, keeping the warm air down in your living space and the cold air up in the attic where it belongs, preventing that transfer of air that makes a home drafty and uncomfortable.
Roofing and Insulation Services in Polk County
If you live around Ankeny or Ames and need your roof repaired or insulation added to your home, give us a call! We install new roofs, repair old ones, and upgrade insulation in homes that need it. Our insulation is top quality and can increase the comfort level of your home as well as help prevent the formation of ice dams, mold, and mildew. Let us know if you would like to get a FREE estimate today!