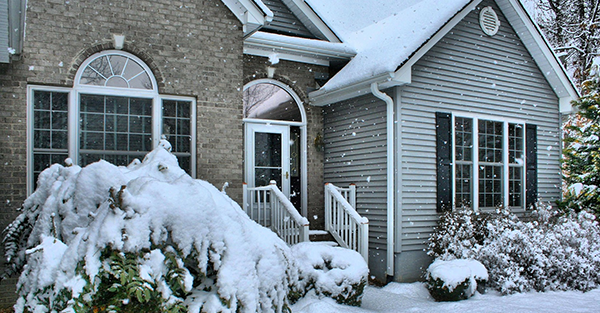 Has your roof been besieged by the harsh winter weather? If your roof has suffered hail damage, lost shingles, or been struck by lightning, it may be in critical condition. If your home has ice dams—buildups of ice along the eaves of your roof and gutters—you may experience roof leaks and resulting damage (including the possible formation of dangerous mold). You may not be able to wait until the spring to replace your roof, but how do you do that work in Iowa in the winter? Is it even possible?
The Bad News: It's Not Easy to Replace a Roof in Winter
Asphalt shingles and architectural shingles are popular choices for residential roofing. Shingle roofs are economical, durable, easy to maintain and repair, and relatively long lasting. With proper maintenance and regular inspection, traditional asphalt shingles should last about 20 years, and architectural shingles can last up to 50. However, winter snow and ice dams followed by spring wind, rain, and hail storms can take a huge toll on an asphalt shingle roof—even a more durable architectural shingle roof.
It can be very difficult for any roofing professional to remove and replace a shingled roof in snowy, icy weather conditions. Aside from the inconvenience to the installers, the cold temperatures can make the products themselves more difficult to manage. Cold temperatures make most kinds of asphalt roofing materials hard and brittle. Shingles can crack during installation, and sealants become hard to spread and apply. As a result, it takes much longer for shingles to adhere to each other, which makes it difficult to get an effective, leak-proof seal. There are asphalt shingles and sealants that are specially made for extremely cold weather, but they can be significantly more expensive.
The Good News: It's Possible to Replace a Roof in Winter
Replacing an asphalt roof during the Iowa winter can be difficult, but it is possible. It's vital that you have a skilled roofing professional install your new roof because there is much less room for error when installing an asphalt roof in the bitter cold. Shingles that are applied to an uneven surface, slightly curved, or buckled will be very susceptible to breakage underfoot in frigid weather as installation progresses. Installing a good roofing underlayment is a vital first step. Then, it may be necessary to hand-seal the shingles with a special cold-weather sealant rather than relying on the thermally-activated asphalt sealant contained within the shingles, since that sealant requires sustained heat from sunlight to bond the shingles together. This means the installation process will be significantly slower and more labor-intensive, and there will still be an increased risk of shingles blowing off or ice dams causing water leaks until all the seals can permanently set in the spring.
Stone-Coated Steel Roofing
If you have to install a new roof in the winter, it's an ideal time to consider stone-coated steel roofing. Metal roofs can be installed in the cold without compromising quality in any way. Metal roofs won't crack and are designed to allow for expansion and contraction, so cold outside temperatures don't make a difference. Steel roofing is durable and corrosion resistant, typically lasting an average of 40–70 years (most products come with a 50-year warranty). Steel roofs form an effective moisture seal, even in cold weather, preventing problems like mold, mildew, and rot. Rain and snow easily slide off of a steel roof's slick surface, helping to prevent ice dams in the winter (and the leaks and other problems they can cause inside your home).
Steel roofing can be designed to look like many other roofing materials, including asphalt, slate, shake, cedar, or clay, so you can have a roof that's both traditionally beautiful and tough enough to withstand the elements. A stone-coated steel roof can withstand winds up to 120 mph, is virtually impervious to hail damage, and is extremely resistant to fire. They reflect UV rays, and the way they're installed creates a pocket of air that acts as an extra layer of insulation for the home—increasing your home's energy efficiency and making it more comfortable year round. Steel roofing is a maintenance-free choice that will help your home weather winter storms for decades to come.
Schedule Your Ames Roof Replacement Now
Sometimes, the seriousness of your roof situation makes it necessary to replace your roof despite treacherous winter conditions. If your roof is leaking, moisture infiltration can cause significant damage to your home. A qualified roofing contractor will help you evaluate whether you can repair your roof temporarily and schedule a full roof replacement for the spring or whether you should replace your roof immediately.
If you need your roof inspected, repaired, or replaced, contact Hedrick Construction today for a free roofing estimate. We install MetroSHAKE stone-coated steel roofs in Ames, Ankeny, Huxley, and surrounding communities as well as traditional asphalt shingle and architectural shingle roofs. Contact us to learn more about our quality roofing products and service.