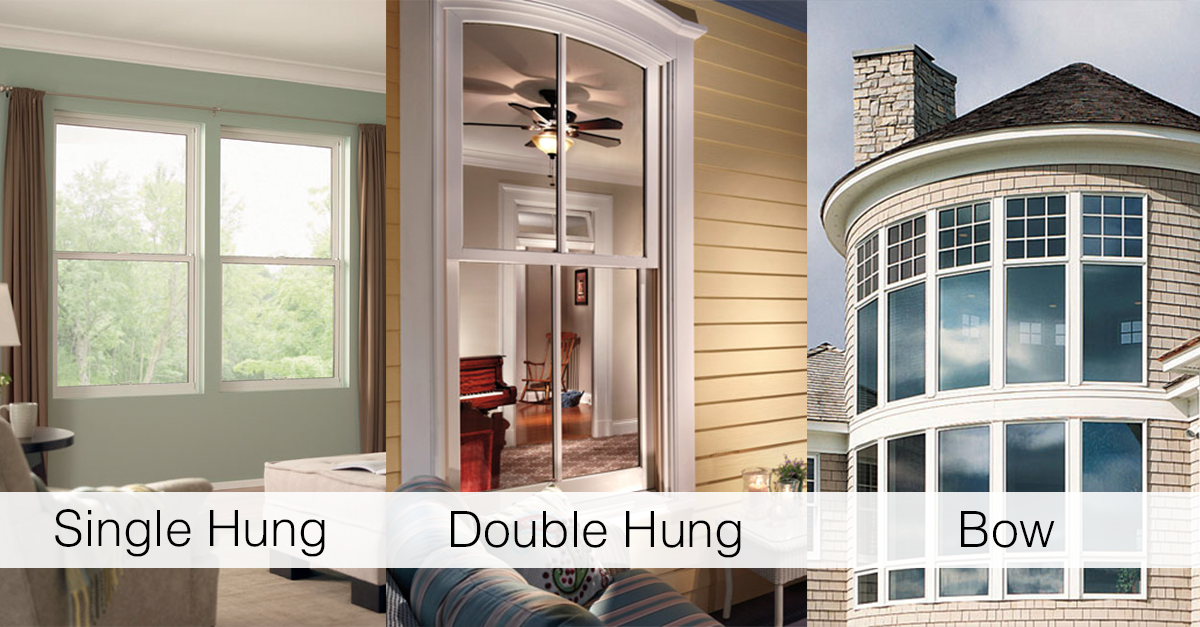 Windows can be considered the eyes of the home, connecting the inside to the outside world. They come in many different sizes, shapes, and styles to fit the needs and tastes of every individual. When choosing windows for your home, there are many things to consider. You have to take into account not only what type of window you would like to have in the house, but also the placement, lighting, building architecture, ventilation, outdoor climate, and spacing.
When deciding where to place your window, be sure to consider the orientation of the sun, where it rises and sets on the house. This includes what rooms the light pours into at peak hours. Another important factor to think about is the architecture of your home. You want your windows to match the style and look of the exterior and interior, embellishing the beauty and aesthetics. Also think about how much air flow you want. Some types of windows are stationary and offer little to no air circulation. Other windows are created for maximum ventilation. How much space you want inside you home can also be affected by the type of window you choose. Some windows are flat and others protrude out from the inside, creating more space in the home.
There are many different types of windows including single and double hung, casement, bow, bay, slider, and picture. Each window has its own advantages. Some are easier to clean and maintain, while others let in more natural lighting or offer a large picturesque view of outdoor scenery.
Single Hung
Single hung windows are different than double hung because of the number of sash that are able to move up or down. These windows have only one moveable sash, usually at the bottom. The top sash is fixed. These types of windows can offer adequate ventilation when open. When closed they can keep the air in or out by sealing tightly shut.
Double Hung
Both sash in these windows are moveable. They can move vertically up or down and sometimes are able to tilt in. This makes for easy maintenance and cleaning. Double hung windows let in light and provide good ventilation.
Casement
These are usually made of a single pane of glass that is hinged on one side, either the right or the left. They open with a crank or handle and swing outward from the house. These windows offer maximum ventilation. When fully open, they can be easily cleaned on the inside and out.
Bow and Bay
Bow and bay windows both provide more interior space by protruding out the exterior siding of the house. They can make rooms feel more spacious and open, providing a large picturesque view to the outdoors. Bay windows are angular projections with three panels: a large picture window in the center with smaller windows on both sides. A bow window usually contains four or five panels, all angled, that produce a curve sticking out into the exterior. These windows allow for a lot of natural lighting.
Slider
To open or close these windows, the sash move horizontally from side to side. Sometimes these have a greater width than height. They easily provide fresh air for good ventilation and can seal tightly shut to keep out the heat or cold.
Picture
These are large, immovable windows that don't open, therefore offer no air ventilation. They consist of a single large pane of glass that is airtight, so you can save on heating and cooling expenses while still getting a lot of natural lighting and a large view to the outdoors.
Hedrick Construction offers a wide variety of windows that reflect beauty and quality craftsmanship. They'll help you make the best decisions when choosing which types of windows fit your personal preferences and provide professional installation and service that exceeds expectations.