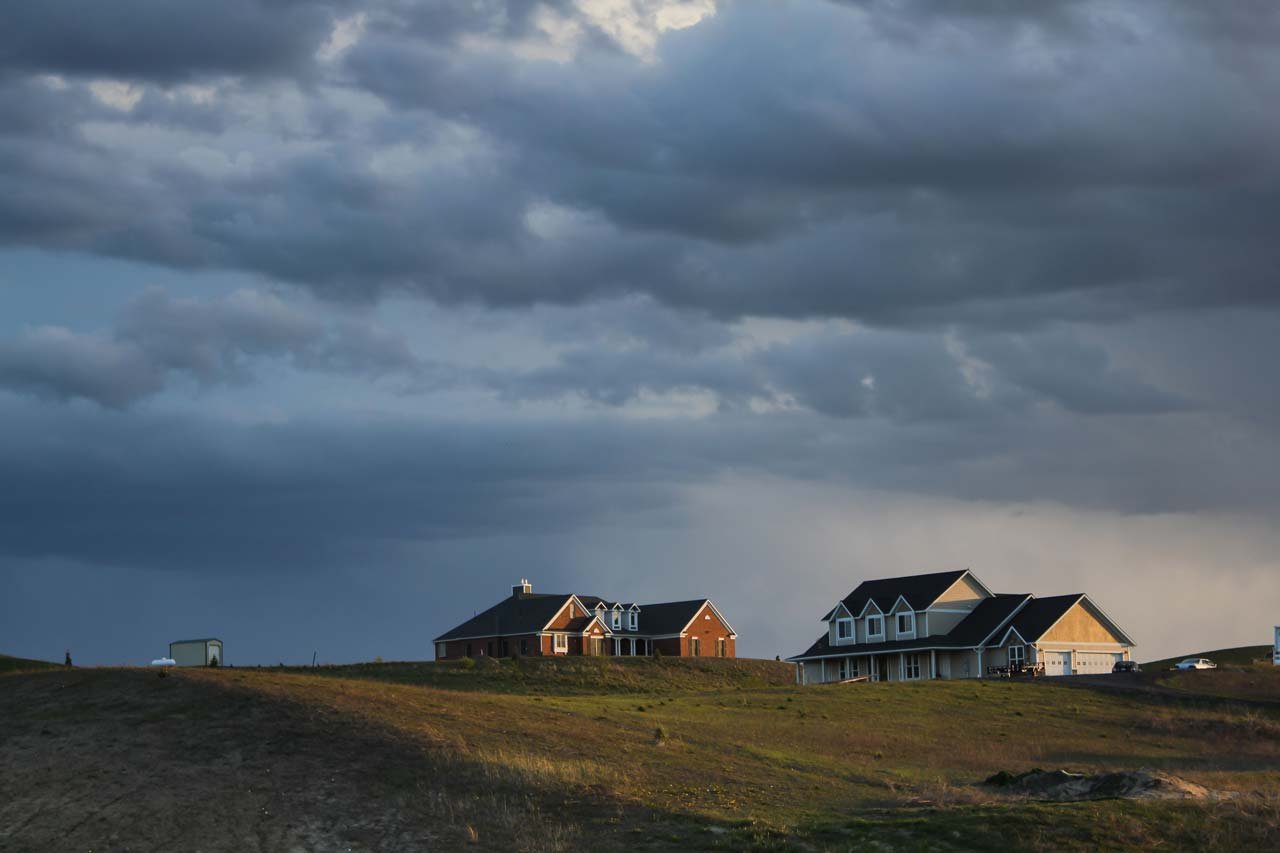 As storms tear up Iowa neighborhoods, homes can suffer damage due to hail, rain, high winds, lightning, and falling trees or debris. During a storm, your first priorities should be to make sure that your family is safe and notify the authorities if you have downed power lines or other dangerous conditions on your property. Once it's safe, you need to investigate the damage as soon as possible and report it to your insurance company. Although this process can be nerve racking, knowing what to expect can relieve some of the stress.
How Do I Evaluate the Damage?
First, start with a visual inspection of your home, including your roof, windows, and siding. Check for missing shingles or flashing, damage to gutters, and broken or split pieces of siding. On your roof, if you have wood shingles, look for cracking, denting, or splits; if you have asphalt roofing or composition shingles, look for divots, cracks, or "hall hits" (areas that look fine but are soft to the touch, like bruised fruit). Check for dents in the soft metals on your roof (including the flashing, vents, chimney, air conditioning units and exhaust caps), your window frames, and your gutters.
If you have asphalt shingles, you may notice significant granule loss after a storm. This can be a result of the impact from hail or debris and can lead to significant damage; their loss exposes the roofing felt and can allow water to infiltrate the structure of your roof and home. Moisture that works its way under the shingles and into the decking below can lead to water leaks as well encourage the growth of dangerous mold. Loss of granule layers can also allow harmful UV rays to penetrate into your shingles and cause rapid deterioration. Even if you don't see any damage, you should have your roof professionally inspected after the main storm season has passed or after a significant storm.
What Is an Insurance Inspection?
Once you file a claim, your insurer will send an adjuster to look at your property. You don't need to be present during this inspection, but it is your right to have a professional represent you during the inspection. The insurance adjuster will inspect your roof and the exterior of your home for visible signs of damage. He or she will generally measure out a 10' x 10' "test square" on different sections of your roof; if there is a sufficient amount of bruises or breaks in each "test square," the insurance company will likely pay you for roof replacement. If not, the adjuster will catalogue the damage and submit it for evaluation to the insurance company. The company will pay fair market value to repair your roof so it meets the requirements for local codes.
What If My Adjuster and My Contractor Disagree on the Damage?
The danger of allowing your insurance adjuster to inspect your home without a contractor representing your interests is that the adjuster may determine your roof does not have significant damage. If you do have a contractor present, the adjuster and your contractor may disagree on the scope and fair market cost of repair for the damage to your roof. Generally, you are entitled to ask your insurance company to arrange a re-inspection by another adjuster within the same firm at no charge.
You are entitled to have your contractor of choice represent you during the adjustment process to expedite the settlement of your claim. In order to save you time off from work and the headache of the entire process, we ask that you allow us to represent you during the inspection process. We will work with your adjuster to determine the extent of the damage, clarify pricing, and offer a repair price agreeable to the insurance company. All you pay is your deductible. Let us work for you in getting a fair and prompt settlement.
How Do Insurance Companies Pay Claims?
Typically, you will receive a check about a week after the adjuster has estimated your property for the actual cost value—the cost to repair or replace your home's damaged elements, minus depreciation. When the repair work is completed, your insurance company will usually issue a second check for some of the amount of depreciation—the portion that is recoverable if the total expenses are equal to or greater than the total settlement—minus your deductible. This is to prevent insurance fraud—that is, profiting from the damage by repairing the roof at a lower rate than your insurer's estimate. A reputable contractor should help you understand every step of the process of repair and recovery.
Do I Need to Get Multiple Estimates for My Repairs?
Your insurance company will pay "fair market price" for actual repairs. Typically, they use a defined price list generated by commonly available estimating software. You are responsible for paying anything above what your insurer believes is the fair market value of repairs. However, as long as the cost of your repairs is under their estimated price, there is no benefit passed on to you for using a cheaper company—you pay only your deductible. Choosing a repair company that cuts corners to save money doesn't benefit you and can cause you to have more significant problems in the future. For best results, choose a repair company based on reputation, experience, and customer service.
Hedrick Construction is experienced in skillfully repairing and replacing your roof and siding following a storm or other catastrophe, and we will help you through every step of the insurance claim process. Contact us today for a free estimate for roofing repair, siding repair, or evaluation of any storm damage remediation needs.