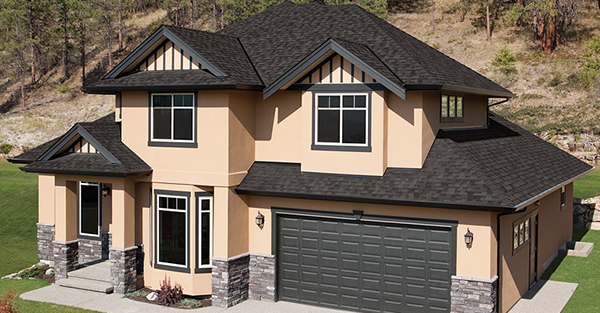 If you need to replace your roof, you have many different roofing options. One stylish, economical, and durable choice is architectural shingles. This option is a great choice for roofs in Iowa because of the way it looks, performs, and can save you money.
What Are Architectural Shingles?
Architectural shingles are similar to traditional asphalt shingles but with valuable differences! They come in a variety of color, texture, and pattern choices, including options that can look like much more expensive roofing options. Whether you prefer a slate, cedar shake, or tile look for your roof, consider architectural shingles as an economical alternative. They can be crafted with a depth and texture that gives them a high-quality appearance without the maintenance hassle or expense of pricier products. This can enhance your home's beauty, curb appeal, and resale value.
Durability = Value
One of the biggest benefits of architectural shingles is their durability. Standard 3-tab asphalt shingles contain a single layer of material on top of a fiberglass or cloth mat. This makes them vulnerable to deterioration and damage from hail, high winds, and other severe weather. Architectural shingles, on the other hand, are made from multiple layers of refined asphalt and granules laminated together. Because of their sturdier composition, they have a much higher wind resistance than standard roofing shingles. Some can withstand up to 120-mph winds! This is a significant improvement over standard shingles, which can typically resist only 60–80-mph winds. This saves you money on repairs and replacement over the life of your roof. Architectural shingles are also more fire resistant than standard composition shingles (which can prevent a lot of damage in the event that lightning strikes your home). Because of this extra protection, some home insurers offer discounts on your premiums for installing architectural shingles.
Longevity = Long-Term Savings
High performance architectural shingles cost far less than materials like slate, tile, or shake roofing. They last longer than standard shingles, often coming with a 30–50 year warranty rather than the traditional shingles' 20–30 year warranties. The highest quality architectural shingles can have warranties of up to 75 years! (Different manufacturers offer different warranty benefits, so be sure to talk with your roofing professional about the warranties specific to your shingles.) Architectural shingles also require less maintenance and replacement than 3-tab shingles. Although they usually cost around 20–30% more per square than 3-tab shingles, their longevity can result in savings over time.
Potential Tax Benefits
In 2016, you can claim a credit on your federal income taxes for installing an ENERGY STAR-rated roof. This can be a certified metal roofing product (like stone-coated steel ) or an asphalt roof with a pigmented coating or cooling granules designed to reduce heat gain (like architectural shingles). You can claim a credit for 10% of the cost, up to $500. Learn more about the tax credit here, and talk to your tax professional about how you can claim it. (This credit has been renewed from previous years and may possibly be renewed for future years, but right now, it only applies to new roofs in 2016, so hurry!)
Easy Installation = Savings
Architectural shingles are easy to cut and fit into corners and crevices. This makes installing them easier than roofing materials like slate, tile, or stone roofs, especially on roofs with intricate architectural features. Architectural shingles don't need extra support built under them like traditional asphalt shingles do, so despite being heavier, they actually put less stress on your roof. As a result, they are appropriate for a wide variety of ages and styles of housing—even older homes. Altogether, their convenience can save you a lot on roof installation costs.
Energy Efficiency = Continuous Savings
Your roof has a huge impact on your energy use (and costs). It takes more energy to cool buildings that have inefficient, hot roofs in the summer. Architectural shingles are engineered to remain cooler than traditional shingles by offering greater light deflection. They also provide added insulation, which reduces heat transference between your home and the outdoors, resulting in lower heating and cooling bills.
Architectural Shingles for Ames, Ankeny, and Huxley Homeowners
Hedrick Construction is proud to be a Platinum Preferred Contractor with Owens Corning, a company that makes top-of-the-line architectural shingles in a variety of styles and options, including Duration shingles. These architectural shingles withstand the tests of time and extreme weather conditions, add beauty and personality to your home, and save you money!
Hedrick Construction in Ames is central Iowa's leading roofing contractor. If you live in or around Story County and are considering re-roofing your home with architectural shingles, stone-coated steel roofing, or any other type of roofing shingles, contact us! For a free inspection and no obligation estimate, click below or call us at (515) 597-7663.