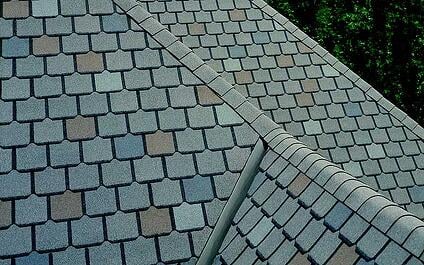 The quality of a roof is depends on its shingles. The durability benefits of a solidly constructed frame will not be realized if the material on top is not up to par. Shingle selection can be a confusing process for most homeowners; few have adequate knowledge to decide which products are best and which ones to avoid.
An uniformed consumer can easily be duped into buying a flashy material they may not need and later learn that they could have spent less on a product that performs better. A reputable roofing contractor will help you understand the differences between the commonly available types of shingle materials and the factors you should consider when choosing your roofing material.
What Type of Shingles Should You Buy?
Several factors will help you determine the best roofing material for you.
Is it suitable for your local climate? Iowa's cold winters and hot summers necessitate an energy-efficient material that is capable of withstanding potentially extreme weather conditions.
Does it complement the structure of your home?

Various types of shingles are better suited to some architectural designs than others. An experienced roofing contractor can help you match your shingles to your home.
Will my home support it?

Ceramic tile and slate are incredibly durable and long lasting, but many homes are unable to support the heavy weight of these roofing materials.
How much maintenance will it require? Some homeowners are willing to put in the time involved in a more maintenance-heavy roof, but many are not. Either way, you should understand what kind of commitment you are making with your choice.
How long will it last?

Roofing materials vary greatly in terms of their longevity.

A cheaper product may be tempting to a homeowner working with a strict budget, but the 10-20-year life spans these materials typically offer means replacement will be necessary sooner rather than later.

On the other hand, a roof that is factory-rated to last fifty years or more will be more expensive initially, but it will ultimately be a much better investment, particularly for homeowners who do not plan on moving.
What are the warranty terms?

Given their higher quality, premium shingles tend to come with more comprehensive coverage than cheaper products that are prone to prone to damage and general wear and tear.

Keep in mind that the warranty on your roof's shingles is different than the roof itself; coverage is not the same and the two should not be confused. Be sure to discuss any questions you have with your roofer, who will be able to explain what the shingle warranty covers, whom to contact when something goes wrong, and the ways in which the warranty can be voided.
How much will it cost?

Ceramic and slate make beautiful roofs, but homeowners who choose them pay a premium. Asphalt shingles, on the other hand, are quite affordable and work well on many different housing types.
Architectural Shingles at a Glance
Hedrick specializes in the sale and installation of architectural shingles. Because of their three-dimensional shape, architectural shingles are often referred to as dimensional shingles. Their design adds depth to the roof, mimicking the effect of wood or slate, and they afford unmatched water-resistance and durability.
Architectural shingles look great on any housing style, but they especially complement steep pitches, gables, and turrets, which are commonly associated with Victorian era homes. Contact Hedrick Construction for more information on our selection of shingles or to discuss the best options for your home in Ankeny, Ames, or surrounding areas. We also provide shingle recycling for all of your viable old roofing materials to keep our community clean and lighten your environmental footprint.