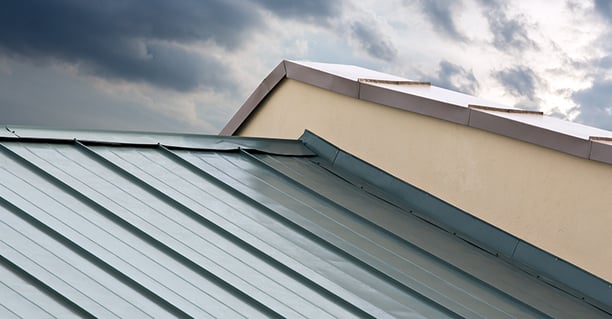 Metal roofs are virtually maintenance free, but if they are not properly installed or they become damaged by severe weather, they may need professional repair. If you see signs of damage or degradation in your metal roof, contact a roofing installation and maintenance professional who specializes in metal roofing.
Metal Roofs Are Durable and Long Lasting
Steel roofs typically last a very long time compared to other roofing products—an average of 40–70 years (for comparison, the typical lifespan of asphalt shingles is 12–20 years). One of the reasons for their longevity is their durability: they are able to withstand winds of up to 120 mph and are very resistant to impact from hail and other debris. Residential metal roofing is made of 24- or 26-gauge rolled steel sheets covered with a metallic, rust-preventing coating and a baked-on paint finish. Steel roofing products can be coated with either zinc (referred to as "galvanized" steel) or a mixture of aluminum and zinc (called "galvalume" or "zincalume"). This "stone-coated steel roofing" has the beauty of slate roofing with the durability of metal.
Metal roofing is not impervious to damage, however. Storms with extremely high winds, high-velocity debris, or hail can dent or damage panels. Inspect your roof yourself or call a roofing professional to perform an inspection after severe weather occurrences.
Poor Installation Can Cause Ongoing Issues
The strong material structure of metal roofing is reinforced when the panels are properly installed in an interlocking, overlapping pattern and securely screwed down in an "x" pattern. A properly installed metal roof creates a very strong protective barrier between your home and the outside environment, sealing out moisture so effectively that it prevents other problems like attic condensation, mold, rot, and mildew.
If yours wasn't properly installed, however, you may not enjoy these benefits. Improper installation of the underlayment, incorrect placement or securing of the panels, punctures, missing or damaged flashing, failed seaming, or other problems can allow water to infiltrate your dwelling. Over time, this can lead to significant damage.
During installation, it's important to ensure the integrity of the coating on the panels. If they are scratched, gouged, or scuffed during the process, it can affect their integrity. If the metal is improperly coated on the underside of the panels, they can become corroded and weaken. Corrosion can also occur if you use a granulated underlayment or install a metal roof directly over a shingle roof, which can scratch the protective backside coating and cause the system to fail from the inside out.
Signs of Damage or Degradation
Unlike asphalt roofs, which require regular seasonal inspection, maintenance, repairs, and shingle replacement, steel roofing is virtually maintenance free. However, it's a good idea to periodically visually inspect your roof for signs of damage or degradation. If you see any of the following, call a roofing professional immediately.
Leaks, tears, gouges, or punctures
Rust or discoloration
Loose nails
Lifted fasteners
Sign of corrosion
Finish coming off panels
Improper flashing (missing, hanging, or damaged)
Des Moines Stone Coated Steel Roofing Professionals
Hedrick Construction's roofing professionals have the experience you can trust to properly install, repair, and help you maintain your stone coated steel roofing products. We proudly serve residential and commercial customers in Des Moines, Ankeny, Ames, and the surrounding areas. Contact us to schedule a roofing inspection, repair, or consultation about the benefits of installing a stone coated steel roof today!