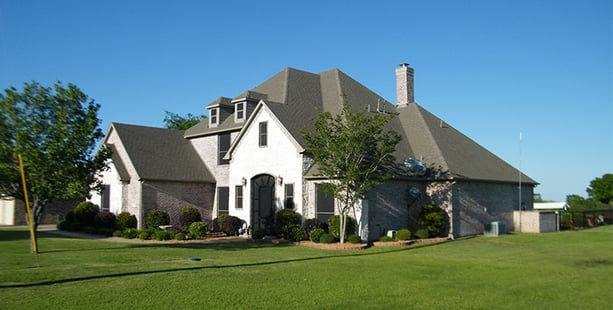 Choosing the right shingle for your roof can be difficult. You have a wide variety of options in material, color, durability, and price. While several factors contribute to how long your roof will last and which roofing material is the right choice for your home, one thing is certain: you want your new roof to be a worthwhile investment, enhancing the longevity, look, and feel of your home. Today, we'll discuss how architectural shingles can help you meet this goal.
What are architectural shingles?
Architectural shingles, also known as laminated or dimensional shingles, are made of two shingle strips laminated together, giving them a more dimensional base than a flat shingle. This multi-layered base creates a thick, durable material, giving architectural shingles a great reputation for enduring high winds and other extreme weather circumstances.
The depth and color variety of these shingles makes them comparable to the look of high-end, premium roofing—for a much more affordable price.
How are they different from other roofing materials?
Durability
Architectural shingles are made with a thick asphalt base, placing them among the highest quality roofing products on the market. In Iowa, a roof needs to withstand heavy snow and rain in the winter and heat and humidity in the summer.
Architectural shingles are a dependable material that you can count on in any weather condition.
Value
The dimension and shape of architectural shingles can give your roof an appealing, more expensive look without breaking the bank. Although their initial cost is approximately 20–30% more per square, energy savings and a longer roof life offset this difference over time. In addition, architectural shingles' warranties typically last 30–50 years, nearly doubling the average you would receive for a 3-tab shingle.
Customization and Variety
Architectural shingles can be created to mimic a variety of natural-looking materials like slate or wood, creating nearly limitless color and style options. The lightweight build also makes them a great choice for steep or complex roofs that may be limit the use of other materials. Architectural shingles are ideal for highly sloped roofs because they're crafted in a way that lets water and snow slide off easily.
Style and Return on Investment
Architectural shingles were developed in the 1970s as upscale home finishes. Over time, they have become more widely used because their textured, high-end appearance is available at a reasonable price point. Additionally, a nice looking and dependable roof can boost your home's value and return nearly 72% of your investment. For more information, check out our previous post on how a new roof can increase home value.
Easier Installation
While a proper inspection is needed to estimate installation time, architectural shingles are generally easier to install because they're simple to cut and can fit a variety of roof shapes and sizes. This includes homes of all different ages and styles, making it one of the most versatile roofing options on the market.
Energy Efficiency
Generally speaking, a well maintained roof should lower your energy costs by keeping out outdoor elements that cause your heating and cooling systems to work harder. Architectural shingles are particularly effective because they are engineered to better deflect light, keeping them cooler. This is a big money saver in the hot summer months when you're relying on your air conditioning to keep your home comfortable.
Finding the right roofing material doesn't have to be a hassle when you understand how to get great materials at an affordable price. Across the board, architectural shingles are dependable, long lasting, and well covered by warranty. The style they add to every angle of your home can make you proud for years to come that you made this investment.
Architectural Shingles for Central Iowa Homeowners
Hedrick Construction is proud to be a Platinum Preferred Contractor with Owens Corning, a trusted manufacturer of top-of-the-line architectural shingles in a variety of styles, colors, and options. If you live in or around Story County and are considering re-roofing your home, give us a call. We'll help you explore your choices, including architectural shingles, traditional roofing shingles, or other state-of-the-art products like stone coated steel roofing. For a free inspection and a no-obligation estimate in Ankeny, Ames, Des Moines, or surrounding areas, click below or call us at (515) 597-7663.