When the weather forecast calls for high winds, tornadoes, and other severe weather, it's important to know how to protect your home and family. You should take steps to protect yourself and your investments before a storm and know how to best respond if your property sustains damage.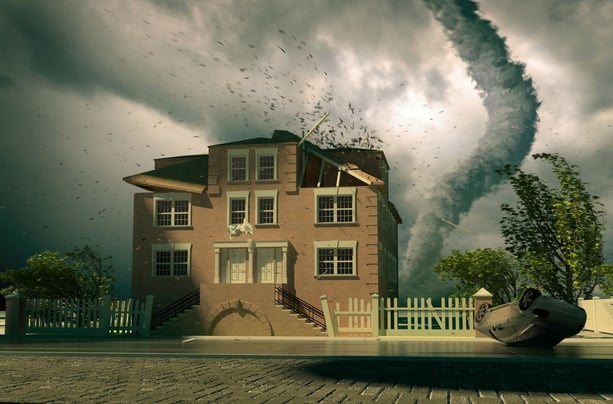 Before a Storm: Prepare and Document
If you live in areas that are prone to severe summer weather, like the Des Moines metro area, you should consider taking steps to outfit your home with durable exterior materials. Roofing materials like stone-coated steel shingles provide durable, good looking and long lasting protection from the elements in addition to a host of other benefits. Storm doors can help protect your exterior doors from hail, wind, and flying debris. EMCO steel siding is long lasting, durable, fire- and moisture-resistant, and environmentally friendly. Protective products such as these will help your home stand up to harsh weather conditions.
In addition to physical protection, you should make sure you understand your insurance policy coverage. Tornado damage is often covered by standard home insurance policies, but check to make sure it's not specifically excluded from yours. Damage related to flooding, even if caused by the same storm, may not be covered.
Before a storm, make a home inventory by taking video and pictures of your home's interior and exterior. Upload these videos and pictures to the "cloud" using a service like Dropbox, Flickr, or Google+, or email them to yourself or a friend. In addition to documenting your personal items, it can be helpful to maintain a list of major home improvements like roof repairs and siding installation (including the cost and date completed). Some insurance companies even allow you to upload your videos, photos, and lists to a cloud database linked to your policy. Even if you only have a short time to document your home's condition before a storm hits, having some documentation is better than none. Make a list of your policy numbers and insurance company contact information, and email it to yourself or upload it to the cloud as well.
After a Storm: Inspect for Damage
Iowa storms can bring wind, rain, and hail. High winds can knock down tree limbs and power lines, causing significant damage to your roof and tearing off shingles. After a tornado, thunderstorm, hurricane, or hailstorm, you should inspect your home inside and out for damage. From the outside, check your roof for missing shingles or metal fascia (especially around the chimney). Make sure that your chimney, gutters, vent covers, and any exhaust pipes or outlets are undamaged and in good condition and that your gutters are clear of debris. Also inspect your siding for any damage or "dimpling" from hail, tree branches, or debris. From the inside, inspect your attic for leaks or water damage. Examine your upper-floor ceilings and walls for water stains, cracks, or bubbles in the paint. Document any problems that you see in writing and with photographs.
DON'T take any chances if you see downed power lines or other potentially hazardous conditions. If your roof appears to have structural damage, be careful while conducting your inspection and DON'T climb onto it to check. If you have any doubts about your home's safety, contact a professional roofing and siding inspector to conduct a safe and professional inspection.
If You Have Damage: File a Claim and Make Repairs
Once you document the damage to your home, contact your insurance company as soon as possible to assess the situation and determine whether you should file a claim. Keep documentation and receipts for all expenses, including any emergency repairs you do yourself like boarding up broken windows or covering over holes in your roof to prevent additional damage. (Many policies will cover these expenses as part of your claim.) Many policies will also reimburse you for living expenses if your home is unsafe to live in because of the storm damage.
With the guidance of your insurance company, work with a licensed professional contractor to make repairs or replace roof or siding that is beyond repair. If you have to replace your roof, consider alternatives to traditional asphalt shingles to help prevent future storm damage. Metal or stone-coated steel roof shingles resist damage better than traditional shingles. Although they cost more than asphalt shingles, your insurance company might offer discounted premiums for replacing your roof with these more durable materials.
Hedrick Construction in Ames, Iowa can help you put your life back together after a storm. We'll work with you and your insurer to repair or replace roofing, siding, gutters, and windows damaged in a storm. Contact us today to get started.