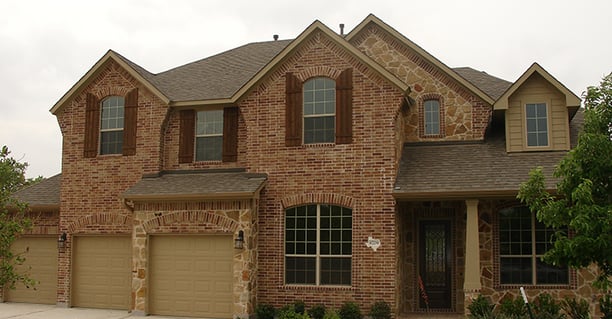 If you're an Iowa homeowner, you know how winter weather and spring storms can leave your roof in less-than-stellar condition. Many years of harsh weather can take their toll. If it's time for a complete roof replacement, you have more roofing options than ever to choose from. Dimensional shingles are an affordable, practical, good-looking choice for your new roof.
What Are "Dimensional" Shingles?
Dimensional, or "architectural," shingles are similar in construction to traditional asphalt shingles with certain significant differences. They are thicker and more durable than traditional three-tab shingles, which makes them both more long lasting and more attractive. They are offered in a wide array of colors, textures, and patterns, which are customizable to fit your individual tastes. They are also aesthetically versatile: the three-dimensional pattern of these shingles can be crafted to look like expensive slate, cedar shake, or tile roofs. The depth and texture of these shingles give them a more architecturally interesting appearance without the maintenance hassle or expense of these other materials, and they cost far less. They can enhance your home's beauty and curb appeal, giving a sense of age and character to new construction and a timeless appeal to older homes.
Economical and Durable Style
Although they usually cost around 20–30% more per square than traditional asphalt roofing shingles, architectural shingles usually pay for themselves over time due to their durability. They last longer and require less maintenance, repair, and replacement than 3-tab shingles because they are sturdier and heavier. Standard asphalt shingles contain a single layer of material on top of a fiberglass or cloth mat, while architectural shingles are made from multiple layers of material, refined asphalt, and granules laminated together. This sturdy construction helps them withstand high winds, improves their fire resistance, (helpful if lightning strikes your home), and makes them less susceptible to hail damage.
Warranties on architectural shingles typically last 30–50 years compared to typical 3-tab shingle warranties that average 20–30 years. The highest quality architectural shingles can have warranties of up to 75 years! (Different manufacturers offer different warranty benefits, so be sure to talk to your roofing contractor about the warranties specific to each shingle choice.)
Easy to Install on All Iowa Roofs
Architectural shingles are easier to install than many other roofing materials. They are easy to cut and fit into unusually-shaped roofs, corners, and crevices, making them quicker and cheaper to install than slate, tile, or stone roofs. Because of their inherent stability, they don't need as much support built underneath them, which makes them lighter than even a traditional asphalt roof (not to mention heavier roofing materials like slate). They are appropriate for a wide variety of ages and styles of housing, including older homes that otherwise might need significant shoring up before installing new roofing materials. They can also be installed on high sloped roofs to enable water and snow to slide off easily, a plus to prevent water infiltration and ice dams during snowy Iowa winters. And for Iowa summers, architectural shingles can help save money on keeping your house cool: architectural shingles are engineered to remain cooler than other products by offering greater light deflection and added insulation. The cooler the roof, the less energy it takes to cool the building beneath it to a comfortable temperature.
Architectural Shingles for Ankeny, Ames, & Huxley Homeowners
Hedrick Construction is proud to be a Platinum Preferred Contractor with Owens Corning, a trusted manufacturer of top-of-the-line architectural shingles in a variety of styles, colors, and options. If you live in or around Story County and are considering re-roofing your home, give us a call. We'll help you explore your options, including architectural shingles, traditional roofing shingles, or other state-of-the-art products like stone coated steel roofing. For a free inspection and a no-obligation estimate in Ankeny, Ames, Huxley, or surrounding areas, click below or call us at (515) 597-7663.