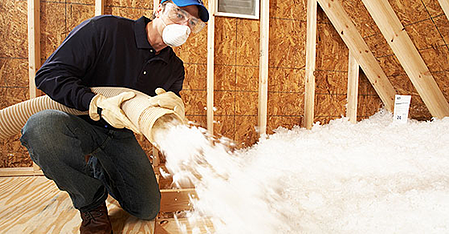 There are many types of insulation out there today, and the differences among them can end up costing or saving you a substantial amount of time, money, and energy. Blown in insulation can greatly reduce energy expenditure, lowering heating and cooling costs.
Energy Efficiency
Blown in insulation is much more airtight than standard insulation that comes in the form of rolled batting. The blown material is smaller and able to get into tiny cracks and crevices of your attic, where air typically leaks through. This versatile material can fill in around beams, pipes, and other uniquely shaped objects and spaces. Its ability to seal tightly makes it a much better and more energy-efficient solution than rolled batting. It is also moisture resistant, so it prevents mold, odor, and rot from creeping into your home.
Materials
There are two main types of insulation used today. Fiberglass can come in both rolled batting and blown forms, while cellulose comes in blown form only. Fiberglass is made up of recycled glass and sand, both renewable and abundant resources, making it an eco-friendly solution for the home and environment. It is also one of the most thoroughly tested insulation products on the market today. Cellulose is made from recycled, environmentally safe materials as well, but has been through very little health and safety testing. Blown in cellulose can settle up to 20%, losing R-value over time, while fiberglass insulation has very little to no settling.
Cost
Like many other high quality and energy-efficient materials, blown in insulation can be more costly than lower quality alternatives, but it can create substantial savings in your energy bills. The extra cost spent on installation will typically be recovered by your utility savings over the next 2-4 years.
Noise
Due to its airtight seal, this type of insulation is better able to prevent noise from traveling through walls. Whether your neighbors are the problem, or you're tired of hearing the pounding rain and crashing thunder as if it's inside your house, this insulation will act as a sound buffer, giving you the quiet that you need.
Installation
Installing blown in insulation is a very quick and easy procedure. Kneeling down on the floor for hours upon hours is no longer an essential part of the process. The material is simply blown out of a hose into the space to create a seamless thermal protective blanket of insulation.
Fire Resistance
This airtight material is excellent for reducing the risk of fires. Its fire retardant capabilities are due to the tight sealing that prevents air from flowing through small spaces and fueling the flame.
Living in Iowa, we are used to experiencing extreme weather conditions as the hot and cold temperatures fluctuate. Whether or not all of us are well equipped for these conditions is another story. Increase your home's energy efficiency by upgrading to blown in insulation for your attic. It will protect your home from the outside environment and keep you and your family comfortable inside.
Hedrick Construction provides value to our customers by professionally installing premium insulation at affordable rates.