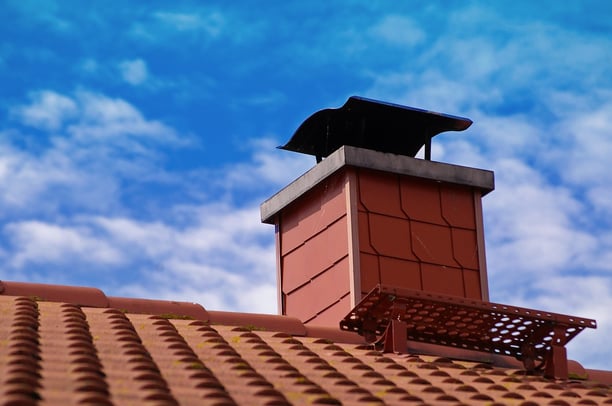 Most people don't give their chimney much thought unless something goes wrong. They tend to believe that, once installed, it will serve its purpose. It's very important to check your chimney once in a while, however, to ensure it's as safe as can be, and a safe chimney goes hand in hand with a quality, well-designed roofing system. Consider the following tips for chimney safety.
Inspect your chimney.
You can start with a visual inspection of your chimney. The outdoor inspection can be done from the ground, preferably with binoculars. Check to make sure the cap is on and in good shape. Check for debris or bird nests, clear them away if necessary. Check for any damage to bricks or mortar or tilt in the chimney's angle. Finally, check to see if the chimney is tightly flashed to the roof.
Inside the house, use a flashlight to look up into your chimney. With the damper open, check for debris or other unwanted material in the fire box or chimney. Also inspect bricks and glass for cracks and missing mortar, and make sure the damper opens and closes properly. If any problems exist that you can't fix on your own, call a professional to make a repair before you start using your fireplace.
Have your chimney reglularly cleaned and professionally inspected.
A clean chimney is essential to safety, so take the time to clean the fireplace and chimney, or hire a professional to do it for you before you start using it for the season. A professional can check for any problems, fix them, and offer you advice about keeping your chimney clean and safe from one year to the next. Regular maintenance increases durability and helps you to avoid costly repairs in the future.
Consider stone-coated steel roofing.
As mentioned above, a well designed roof is an important aspect of chimney safety. The durability of your roofing system affects that of your chimney. If your roof is getting old, consider installing a modern system that will serve you over the long term, such as a stone-coated steel roof. Stone-coated steel roofs are fire and moisture resistant to keep your home and family safe during winter cold, spring rains, and summer thunderstorms.
Stone-coated steel roofing can maintain its appearance and performance for decades. These roofs commonly comes with 50-year warranties and can last significantly longer. Plus, stone-coated steel roofing can mimic the look of many other materials, including asphalt, slate, or even cedar shake.
At Hedrick Construction, we can attest to the great performance of stone-coated steel roofing. If you're interested in learning more about the roofing options you have in the Ames, Ankeny, or Des Moines areas, contact us! We'd love to transform your worn-out old roof into a beautiful, functional system that will protect you and your family for years to come. Contact us for a quote today!