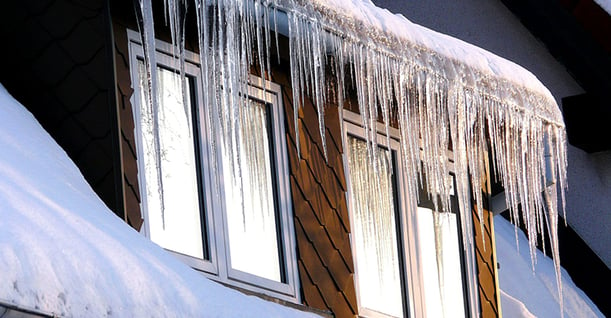 Those sparkly, shiny icicles lining the edge of your roof aren't all they're cracked up to be. They could be a sign of a serious problem with the health and condition of your home. Ice dams form when heat seeps into the upper region of a building and creates warm patches across the roof. This is usually due to inadequate attic insulation and insufficient ventilation. Ice dams can damage your gutters, roof, and your entire home by leaving it susceptible to water intrusion, interior damage, and diminished indoor air quality.
If you have an ice dam problem, consider having heat cables installed to minimize ice formation around your home and to reduce moisture retention on your roof.
How do heat cables work?
Placed strategically in patterns across the roof and/or in gutters and downspouts, heat cables can melt snow and ice and create channels for water to flow. These warm channels allow water to run off the roof freely, reducing the amount of ice and snow buildup on the roof and in your gutters to minimize ice dam formation and prevent water infiltration.
Heat cables require electricity to operate, so be sure to account for the extra energy required to run them before you decide to have them installed. Also be sure to monitor heat cables to avoid overheating or unnecessary energy usage. We recommend self-regulating heat cables. They're safer and more energy efficient; however, it's still important to keep an eye on them and to turn them off when you don't need them to avoid waste.
Self-Regulating Heat Cables
Self-regulating heat cables adjust their power output automatically as outdoor temperatures fluctuate, so you don't need to worry about them overheating. Raychem offers quality self-regulating heat cables for residential homes and commercial properties that can be used on standard roofing materials (shingle, rubber, shake, wood, tar, metal, and plastic) as well as gutters and downspouts. These cables can be installed quickly and easily and are long lasting.
Warnings about Heat Cables
Installing heat cables may be cheaper than dealing with the source of your ice dam problem, but they will only mask the symptom of the deeper issue. Furthermore, they are not guaranteed to prevent ice dam formation altogether. In fact, in some cases, heat cables can build upon ice dams by melting ice and snow, which then slides to the edge of the roof and refreezes. To get rid of your ice dam problem altogether, you must deal with the root of the problem. Be sure to seal any air leaks in your attic, and ensure your home has adequate quality insulation and proper ventilation. Ask a professional for help and advice to deal with any underlying problems in your home.
Also take note that installing heat cables should be done properly and carefully by a professional to avoid fire or electrical damage. Installing heat cables requires electrical wiring knowledge.
Click here to learn more about how heat cables work and protective measures for installing and monitoring a heat cable system.
Heat Cable Installation in Polk County
If you would like us to inspect your home to determine if you could benenfit from heat cables, or if you need a proper ventilation system or insulation added to your home, give us a call, or click the button below to request a free estimate! We install quality Raychem heat cables for homeowners and businesses. We also provide roofing, siding, insulation, and window services to residents in and around Huxley, Ankeny, Ames, and the surrounding areas. Contact us today!