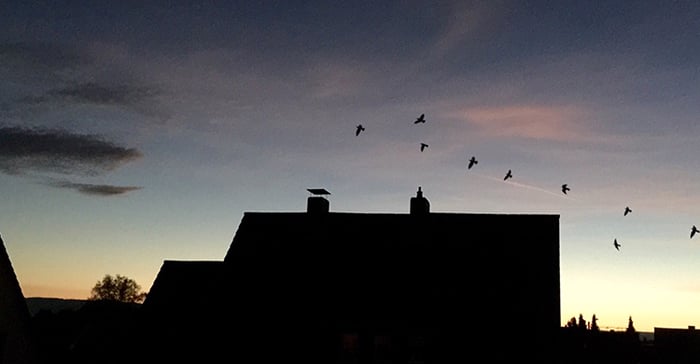 On average, it takes approximately one to three days for Des Moines roofers to put a new roof on a small, 1,000 square foot home, and it often takes three days or more to put a new roof on a larger home. Other factors can affect how long it takes to put on a new roof, including the difficulty of the job, the weather, the type of materials used, and the experience level of the crew doing the job.
Difficulty
All roofs are not created equal. Roofs with steep pitches, multiple angles, and multiple gables are more difficult to work on than a standard single-gable roof (that is, a simple roof with one ridge and two pitched sides). Architectural features, such as dormers, can further raise the difficulty level. If you have a simple roof, you can expect the job to get done more quickly; if you have an intricate roof, you can expect it to take longer.
Roofs that are in a serious state of disrepair may also take longer to replace. If you have rotted plywood or rafters, for example, you will probably have to replace them, which will add time to the project. Uncovered mold and termite problems may bring the project to a halt until those issues can be handled by the appropriate professionals as well.
Weather
Common sense says you shouldn't remove your roof when it's raining, but Iowa's violent weather may not necessarily give you the choice. Inclement weather, such as freezing rain and snow, can make a roofing job treacherous and cause significant delays. Some roofing materials must be used above a certain temperature; if it's too cold, you can't use them successfully. You should expect delays during bad weather. A string of bad weather may also cause extensive and emergent roof damage to area homes, which could delay your roofer's timetable even longer as they respond to homeowners suffering from uninhabitable conditions after natural disasters or weather emergencies.
Materials
For the same reasons that make them more durable and long lasting, specialty roofing materials such as stone coated steel roofing, slate, cedar shake, and architectural shingles can take more time to install than standard asphalt shingles. Some artistic and specialty roofing materials, like copper, actually require a special tradesman to perform installations and certain repairs, so installation may be delayed to accommodate that installer's schedule.
Because of the wide variety of materials available to re-roof your Iowa home, multiple factors can affect the timetable. Each material will have certain benefits, drawbacks, and quirks of installation. For example, the time it takes to redo a roof on two separate houses with slate roofs can vary dramatically, even if the process begins at the same time in the same general geographic area. This is because slate shingles can last upwards of 200 years, and you can often repair them rather than replace them. So, if house A only needs 20 percent of the roof replaced and house B needs 70 percent of the roof replaced, the amount of time to complete both projects would differ drastically.
Installers
Last but not least, the experience and expertise level of the crew you hire can affect the timetable of the job. A more experienced crew will likely be able to get the job done faster and more efficiently. They will also likely be able to tackle unforeseen issues with ease. All in all, a more experienced crew will save you time (and money) on your roof installation.
When it comes to putting on a new roof, many factors can affect the timeline. Bad weather, a steep roof, and the use of more durable roofing materials can add days to the job. If you want a more exact timetable for your particular project, be sure to ask your roofing contractor. Keep in mind, however, that some factors, such as the weather, are out of his control and can affect the time estimate given.
If you need a new roof in Story County, Hedrick Construction can help you choose the roofing material that's right for your home. We carry traditional asphalt shingles, architectural shingles, stone coated steel roofing, and flat roofing products at all price points, and we have the knowledge and experience to professionally install all of our quality products. For a free inspection and no obligation estimate for roof replacement in Waukee, Des Moines, Ames, and other nearby areas, click below or call us at (515) 597-7663.