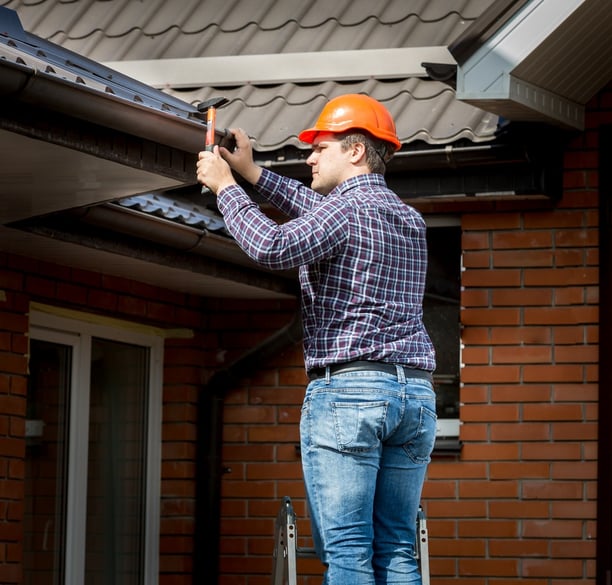 Are you in need of a new roof, whether for new construction or to replace your existing roof? There are many choices to be made about colors, materials to use, designs and finishes. You will want to take into consideration your style of house, your budget, your neighborhood, and the kind of strength and durability you need to withstand Iowa's dramatically varying climate. Although color isn't the most important of these decisions, it's still a big part of your new roof's appeal.
Choosing a Roof Color...So Many Options!
When choosing roof colors, you may want to check your homeowner's association or historic district regulatory board to see if there are any requirements or restrictions. Bright or unusual colors may not be welcome in a conservative or historic neighborhood. Keep in mind historical traditions in your neighborhood that began with the most available materials used in the past. Not all traditional schemes are boring or neutral; you may be surprised to learn that Victorian-era homes often used bright, bold color palettes.
There are practical pros and cons of both light and dark colors. Light colors reflect the sun's rays and can help keep summer cooling costs down; they also tend to hide wear and tear better than darker colors. Darker colors absorb more heat, keeping your house warmer and helping to speed up the melting of ice and snow; however, they are more susceptible to fading than lighter colors.
From an aesthetic point of view, be sure to pick a color that contrasts with the color of your home's exterior; colors that are too similar to your home's siding or paint will look boring. If your exterior has a pattern or texture, such as multicolored stone or variegated brick, you will want to pick a solid, complimentary color for the roof so as to avoid a busy, mismatched look.
Colors are important from a resale perspective. The style and location of your house will therefore dictate color to some extent, depending on what is most popular with buyers in the local market. You may like an unusual color for your roof, but prospective home buyers may not share your taste. It is better to err on the side of neutrality when choosing colors if you're planning to sell within a few years. If you don't plan to sell your house any time soon, remember that you may have to live with your color choice for decades!
Choosing Your Roofing Material: Colors in all Styles
Typical choices for materials include standard asphalt roofing shingles, thicker architectural shingles, and stone coated steel roofing. Standard asphalt shingles (which tend to have a 20-30 year warranty) are the most economical and are available in an extremely wide array of colors. Architectural shingles are about twice as thick as regular shingles; they have a layered look that resembles a slate roof, giving it a more "architectural" look. Although they cost a bit more, they last longer, too; they are now available in an equally wide variety of colors and have less tendency to fade than asphalt shingles. Both asphalt and architectural shingles are good choices if you plan to install solar panels.
Stone coated steel roofing, although 2 or 3 times the cost of standard asphalt shingles, is another excellent choice. This roof is manufactured from steel and then coated with stone chips adhered to the metal using acrylic film. Although initially this material was only available in a very limited color range, stone coated steel roofing is now available in many colors and in styles that can resemble shingles, shakes, or tiles. The panels interlock, creating a strong, leak-proof barrier that can withstand fire, high winds, hail, heavy rain and deep snow, and the long-lasting color will not fade like other materials. There are many reasons to choose a modern metal roof, including its durability and stylish appearance.
If you're planning to replace your roof, give us a call today. Hedrick Construction can help with all of your Ankeny, Des Moines, and Ames roofing needs, including gutter cleaning and repair, roof inspection, and roof repair or replacement. Contact us for a free estimate and to learn more about the many colors, styles, and materials available for your home's new roof.
Check out our free eBook about today's incredibly chic, durable, and economical metal roofing products—just click the link below.