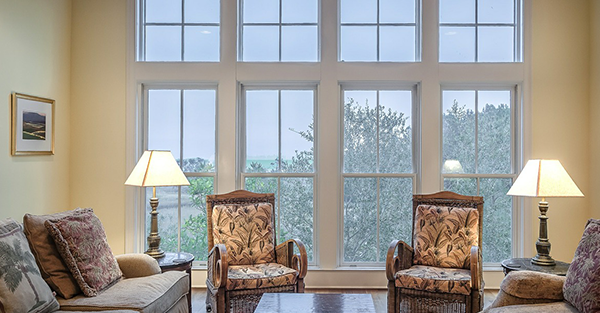 Hedrick Construction offers a variety of window options for your Ankeny, Huxley, or Story County area home. Velux and Hurd are two of the quality brands we offer our customers. They are both known for their energy efficiency and superior craftsmanship. If you would like to check out more of the superior window brands Hedrick offers, read our post, "4 Types of Truly Energy Efficient Windows."
VELUX Windows
Skylights let in solar warmth, light and, overall, make your home feel brighter and more welcoming. Because getting that extra natural light from the sun allows you to cut back on electricity used for artificial lighting and heating, adding a skylight is an economical choice. VELUX offers a variety of residential skylights to meet the needs of every individual homeowner. Skylights can be deck-mounted, curb-mounted, or pan-flashed. Aside from the window itself, blinds with independent, built-in solar panels and power systems are also be available. Consumers can program their skylights and control them remotely with an intelligent touch remote control.

Hurd Windows
There are a multitude of reasons to choose Hurd windows for your home. Hurd's 27 different exterior clad colors and up to 11 hardware finishes allow you to customize your windows to suit your home beautifully. Their Ultra-R glazing reflects heat, improves insulation, blocks 99.5% of UV rays, reduces noise up to 20%, and provides energy-saving comfort. Hurd windows also contain double-thick extruded aluminum cladding and are Energy Star Performance-certified, which means they meet the most stringent energy efficiency requirements. They come with a lifetime limited warranty.
Hurd windows are superbly engineered and crafted by hand with the latest technology and state-of-the-art construction techniques. Beautiful and durable, they require little to no maintenance. The wood is protected by Hurd's exclusive CoreGuard, the best wood treatment in the window industry. CoreGuard is environmentally friendly, patented, and naturally organic. These windows are almost as rot-proof as vinyl while providing the warmth that only wood can.
Hurd offers four types of windows for the home. Aluminum clad windows are weatherproof, require no maintenance, and are made with wood inside and aluminum cladding outside to create a combination window that impresses. These windows are offered in pine and eight other species of wood. Hurd's all-wood windows have guaranteed durability ensured by CoreGuard treatment. The H3 high-tech window has been recently named "the most innovative window of the year" by Window & Door Magazine due to its integrated Fusion Technology (extruded aluminum, solid wood, and vinyl). Hurd also offers FeelSafe hurricane-resistant windows and Superseal vinyl windows.
Window Wrap
Hedrick also offers window wrap for existing windows to improve your home's energy efficiency without the money and time investment of a complete window replacement. When we install window wrap, we place a transparent layer of plastic that is sealed over your window. The wrap enhances the comfort of your home by stopping air leaks, sealing out water and condensation, and reducing street noise.
If you are interested in installing new energy-efficient windows in your home, contact us to receive a window installation quote. Located in Huxley, our full-service roofing and exterior contracting business proudly serves Iowa by offering the finest quality products and the absolute best customer service.