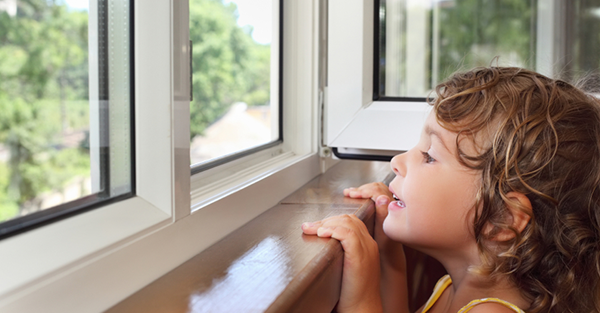 A home's windows can be one its most charming features, offering extra light, warmth, and airflow throughout the home. Upgrading the older windows in your home to new, energy efficient windows comes with a string of benefits, including lower monthly energy bills, less energy waste, better insulation in the home, enhanced home value, and incentives from local utility companies.
Save Money: According to Energy Star, a typical home can save up to $465 per year when replacing single-pane windows and up to $111 per year when replacing double-pane windows with Energy Star certified windows. The Efficient Windows Collaborative also states that during the winter, these high performance windows can save you 15-25% on heating expenses, and in the summer they can save you 10-40% on cooling costs!
Lower HVAC Costs: Since energy efficient windows have lower heating and cooling costs, peak loads (the maximum energy requirement for heating or cooling at one time) are reduced. The peak load is what determines the size of HVAC system you need in your home (e.g. furnace, air conditioner, etc.). Reducing this peak in larger homes can allow you to install smaller HVAC systems, saving you money in both purchase and energy expenses. An HVAC system that is sized properly for the home will require less maintenance over time.
Increased Comfort in Winter Weather: Living in Iowa, we experience all kinds of weather, including bitter cold temperatures in the winter and humidity and heat in the summer. The last thing we want to have to deal with during these extreme conditions is a home with drafty, heat- and cold-admitting windows. In the winter, you will typically experience discomfort in your home if the interior surface of your window is equal to or below 52 degrees Fahrenheit. When sitting near a window during the winter, you might find yourself pumping up the heat because you feel that chill due to the cold window pulling the heat away from your body. A great advantage of energy efficient windows is that they have lower U-factors than other windows. The U-factor is the transfer rate of heat gain or loss through a material, such as glass. The lower the U-factor, the better insulation value and higher airflow resistance a material has. Lower U-factors on these types of windows increases the interior surface temperature during colder conditions so that you can comfortably sit near a window during the winter without feeling that chill.
Increased Comfort in Summer Weather: Have you ever found yourself sitting in front of a window and starting to sweat because of the sun pouring in on you? According to Energy Star, a standard double-pain window allows approximately 75% of the sun's heat into a home. During hotter weather, Energy Star qualified windows admit less heat and allow for greater shading due to their lower solar heat gain coefficient (the measurement of solar radiation that absorbs into a home through the windows).
Incentives: If you do decide to upgrade any of your windows, research the details of any rebates, tax incentives, or special financing that may be offered by the federal or state goverment or local utility companies.
Hedrick Construction, located in Huxley, Iowa and serving the Ames, Ankeny, and Des Moines areas, offers Energy Star qualified window installation. Our window brands include Ply Gem, Alliance, Envirosealed, and Marvin. With a large spectrum of beautiful windows to offer, customers are assured quality craftsmanship and expert installation. Because we only offer superior brands, you can rest assured that you will be happy with the finished product.