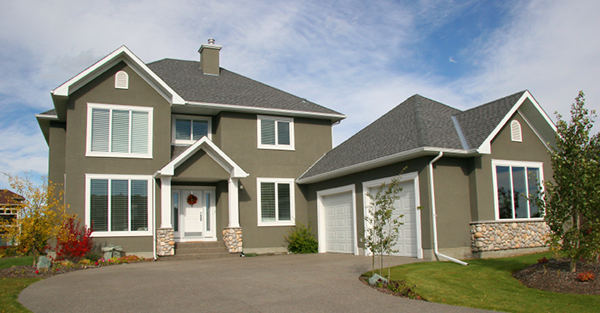 According to the U.S. Department of Energy, heating and cooling account for 50-70% of an average home's total energy usage. Poor insulation can cause major air leakage, making your home less comfortable and unnecessarily throwing money out the window every month. Good insulation in the home can save you money while creating a comfortable, healthy, and energy-efficient living environment for you and your family.
What are the benefits of quality insulation?
If your house has quality roofing and siding but is not well insulated, your house will be somewhat protected from the weather and outside elements, but its occupants won't be as comfortable as possible. Heat naturally flows from warmer areas to cooler areas. Insulation helps resist this airflow through walls, ceilings, roofs, and other surfaces of the home. It stops heat from exiting the house in the winter and entering the house in the summer, acting as a protective barrier between you and the outside conditions.
What factors influence my insulation needs?
Your location and climate will determine, in part, how much and what kind of insulation you need in your home. It you live in Iowa, for example, where we experience extreme fluctuations in temperatures with extreme heat in the summer and cold in the winter, high quality insulation must be installed properly throughout the home in order to maximize energy efficiency levels. Look for R-value when purchasing insulation. This is the thermal resistance (resistance to heat flow) an insulator has. The greater this value, the more effective the insulation will be. When determining the R-value, the thickness, type of material, and density are all taken into account. Look for insulation with a high R-value to properly insulate your Iowa home.
What is the best type of insulation?
Hedrick Construction recommends airtight, energy-efficient blown in insulation. This material is much smaller and more flexible than rolled batting, so it can get into smaller spaces and fill cracks and openings more effectively. It also fills in around beams, pipes, and other oddly shaped objects. It is moisture resistant, which helps prevent the growth of mold and mildew.
What is the most important area of the home to insulate?
The most important location in your home to have high quality insulation is in the attic. Hot air rises, so in the winter, when you have heat pumping through your house, a lot of that air is able to escape through the roof via the attic. In the summer, on the other hand, heat is able to seep into your home through the roof and attic. This can make you uncomfortably warm, tempting you to crank up the air conditioner and drive up your energy bills. In addition to saving money and energy, upgrading to good insulation in your attic can help protect against moisture penetration. This helps to deter mold, odor, and rot, which can be very dangerous to your health and damaging to your home.
Good insulation will save you money and decrease your use of limited energy resources. It will also help to keep you comfortable by creating more uniform temperatures and less draft throughout your home. It will provide a buffer against noise throughout the house and from your neighbors. Finally, it will keep your home cooler in the summer and warmer in the winter to create a more enjoyable environment year-round.
Hedrick Construction offers insulation services for customers in Ames, Huxley, Ankeny, and surrounding areas. Our team skillfully installs only the highest quality insulation materials to give you the greatest possible benefit from your insulation upgrade. We can help you choose the best insulation for your home and gladly answer any questions or concerns you may have along the way.