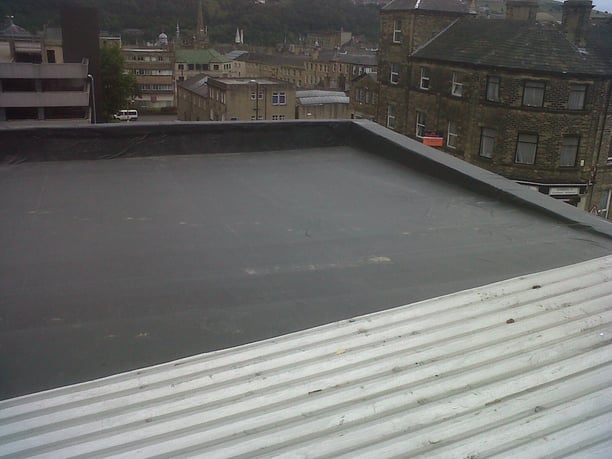 If you're building a new home or it's time to replace your home's aging roof, there are many options to choose from. Traditional asphalt shingles, modern architectural shingles, high-end (and high-priced) choices like slate, tile, or shake, and innovative stone-coated steel roofing options are all great choices. But have you ever considered choosing a rubber roof for your home?
Advantages of Rubber Roofing
Rubber roofing is made of rubber or plastic polymers (or a combination of both materials). These components are eco-friendly, made from recycled tires, sawdust, and slate dust. Single-ply synthetic membrane roofing is seamless, waterproof, and pliable; because of its flexible nature, it is easier to install on difficult roofing configurations than asphalt roofing. Modern rubber roofing is available in rolls or more stylish shingles, which lend a more traditional look to residential roofs.
Rubber roofing is particularly beneficial for flat or low-pitch roofs that tend to accumulate pooling water. Traditional shingles rely on gravity to drain off rainwater, and they can allow standing water to seep underneath and between gaps on flatter roofs. Water infiltration through cracks, nail holes, and between loosened gaps can lead to mildew, rot, and dangerous mold growth in your home—risking damage not only to your roof but to your home's framing, insulation, interior walls, and more. A rubber roof can help protect your home from the kind of unpredictable rain and wind storms that often affect the Des Moines area.
Besides being extremely waterproof, rubber roofing is also very resistant to thermal shock. If installed properly, rubber roofing has very little chance of cracking or becoming brittle in very hot or cold temperatures. It's able to withstand hail and other extreme weather conditions and shows very high resistance to ultraviolet radiation and cyclic fatigue (the stress on your roof caused by this dramatic annual thermal variation).
Rubber roofing requires very little maintenance and upkeep. If you do find that you have a crack or leak during the life of your rubber roof, DIY repairs are usually easy with a simple latex sealant.
Economical and Durable for Long Roof Life
Asphalt shingles that typically last 15–20 years and require quite a bit of attention throughout that time: yearly professional inspections, regular replacement of torn, broken, or loosened shingles, and more. Rubber roofing, on the other hand, often lasts 30–50 years with little necessary maintenance or repairs.
Rubber shingles typically cost about $300–$400 per square (100 square feet) while asphalt shingles are around $100 per square; however, rubber can last twice as long and save you a lot of money in energy efficiency over the years. They're also much more fire resistant than traditional asphalt shingles; because of this, some home insurers offer discounts on their policy premiums, especially in lightning-prone areas.
Rubber roofing installation is an easier, quicker process than asphalt or slate roofing installation. This can reduce the labor cost of your roof replacement and help balance out the higher materials cost. A seamless roll is the most cost effective and energy efficient form of rubber roofing. It is very unlikely to leak or crack because there are no seams for water to flow underneath. Rubber shingles cost a little more and need to be nailed down like traditional shingles, but they are much lighter than slate or asphalt shingles (which makes them easier and faster to transport and install).
A roofing professional may even be able to apply rubber roofing on top of old shingles with a layer of foam insulation in between. Doing it this way instead of tearing off existing roofing can save time and labor costs, but can void a manufacturer's warranty.
There are many reasons for choosing rubber roofing for your new or current home in the Ankeny or Ames, Iowa areas. For all of your roofing needs, call Hedrick Construction. We can answer all of your questions and make professional recommendations to benefit you and your home.