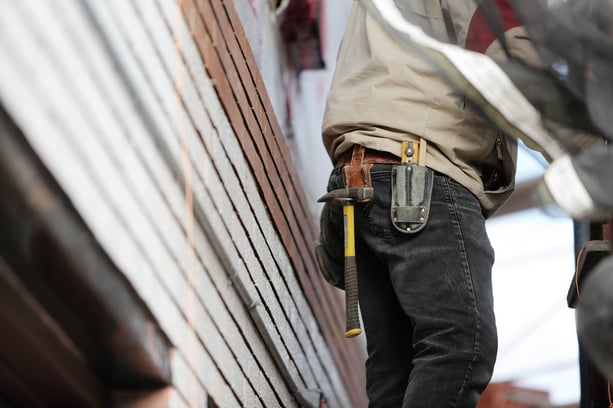 Your house can take a beating in the Iowa weather from the high winds, rain, and damage caused by lightning and spring hail storms. You probably understand that inclement weather and debris can damage your roof, but did you know that your siding might also be at risk?
Siding: Form Follows Function
The purpose of siding on a home is to protect the exterior walls, that is, to prevent the elements from getting through to the interior of your home. Siding also helps your house look and feel its best, keeping it looking good and helping to maintain its insulating properties (helping you stay cool in the summer and warm in the winter). If your siding is old or damaged, it may not be protecting your home as well as it should. If this deterioration allows moisture to infiltrate the walls of your home, it can lead to rot, structural damage, and growth of hazardous mold. These structural and health issues can reduce the value of your home, and remediating them can be expensive and time consuming.
A much better practice is to regularly have your siding professionally inspected for damage and deterioration – at least once a year or after a significant weather event. Many homeowners insurance policies cover damage to some extent and could help you determine whether to repair or replace your siding. Small areas of damage should be repaired immediately; if you have larger areas of significant damage, you should consider whole house siding replacement.
Know the Signs of Siding Damage
If you have traditional wood siding, you might notice cracking, denting, or splits in the boards, or pieces may be broken or completely missing. You might also notice areas that are soft to the touch, like bruised fruit, which can indicate rot. Sometimes, the surface of the siding appears structurally intact, but putting pressure on an area causes it to crumble, revealing below-the-surface rot or termite infestation. If you have vinyl siding, check for peeling, bubbling, cracking, warping, and discoloration.
The sun's rays cause UV damage that can hasten the effects of aging, weaken the structure of your siding, and reduce your home's attractiveness. If you have wood siding, you may not even be able to see the worst of the sun's effects: UV degradation can worsen the expansion and contraction of wood siding, window frames, and shutters, causing deterioration from the inside.
Check for mold or mildew as well as structural damage. You should regularly clean off any mold and mildew before it can develop into more significant issues. Check joints and corners for signs of mold or mildew growth, including near windows, chimneys, and vents.
Replace Your Damaged Siding
More and more homeowners are replacing their damaged wood or vinyl siding with new advanced vinyl siding options, EMCO steel siding, fiber cement siding, stone, or brick.
The most economical and popular option is vinyl siding. Today's vinyl siding is worlds apart from older vinyl siding because it is made using different manufacturing processes, materials, and technology. It's lighter, more flexible, more resistant to damage, and better insulating than ever before. To guard against sun damage, many brands contain titanium dioxide, which reflects harmful UV radiation away from the surface.
Vinyl siding is a great choice for a lot of reasons:
It doesn't absorb moisture, eliminating rot and mold issues
It is low maintenance and easy to clean
It comes in a wide range of styles and colors that last (no repainting required)
It can be installed quickly and affordably.
The #1 recommended vinyl siding available today is CedarMAX. This insulated siding saves money and energy, helping to keep your home more comfortable during all kinds of weather conditions and temperature fluctuations. Its impressive color technology retains its intense, deep colors while reflecting heat and UV rays. Its unique combination of anti-weathering and weather-resistant materials helps ensure your home retains its beauty and efficiency for decades. CedarMAX is also five times more impact resistant than hollow vinyl siding, which gives you another level of protection against hail, debris, and other weather-related damage.
Another industry leader in low-maintenance vinyl siding is Mastic, which offers 365 guaranteed no-fade color options with UV-resistant technology as well as siding options made of recycled content bonded to expanded polystyrene (EPS) foam. Today's vinyl siding technology can help your home be more energy efficient, comfortable, and, of course, attractive.
If you are interested in replacing your home's siding or any other siding services in Huxley, Ames, or Ankeny, be sure to book an appointment soon! Hedrick Construction installs a variety of different quality siding products, including vinyl siding and EMCO steel siding, in Ankeny and the surrounding areas. Whether you are looking for an inspection, siding replacement, or siding installation, we have you covered. Give us a call (515-597-7663) or fill out our online form to let us know how we can serve you!