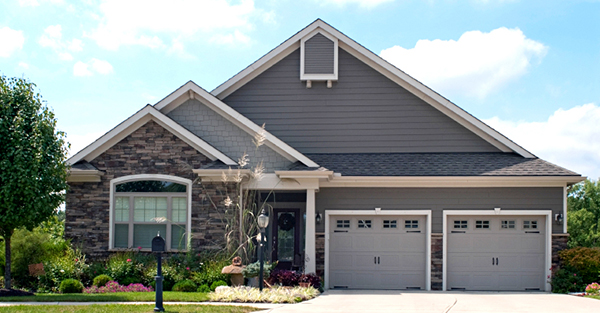 We want our customers to know exactly what they are getting. Below are several quality siding products we offer, including both vinyl and fiber-cement options. Since siding is the face of the home, it is important for homeowners to choose a siding material that fits their home's style and appearance while offering energy efficiency and maximum protection.
Mastic Home Exteriors
Hedrick Construction provides low-maintenance vinyl siding from Mastic. According to the U.S. Census Bureau, vinyl siding has been the number one exterior wall material for 18 years. Nearly 8 million homes over the last two decades have been built using vinyl siding as the primary exterior material. A great thing about vinyl siding is that it does not absorb moisture, so it won't rot or harbor mold. It is very easy to maintain and can be cleaned simply with soap and water. The vinyl siding industry subjects its products to independent third-party certification, and products are verified to meet or exceed the national consensus for quality. There are 365 color options available, giving homeowners a wide range of choices; each one has been individually certified to meet or exceed color retention industry performance standards. Vinyl siding is also a green, sustainable material for the home. In addition to traditional vinyl siding, Mastic also produces insulated vinyl siding that consists of recycled content bonded to expanded polystyrene (EPS) foam.
Heartland Siding
Heartland offers both traditional vinyl and insulated vinyl siding. CedarMAX insulated vinyl siding is the #1 recommended siding on the market today. The insulated siding will save you money and energy during extreme weather and temperatures. The integrated insulation is created with rigid foam that bridges gaps and dips in walls. This creates a blanket that makes for straighter panels and enhances the home's aesthetic appeal. The insulated siding is five times more impact resistant than hollow siding, providing the home with extra protection against hail, debris, or children's horseplay.
James Hardie
James Hardie began inventing fiber cement products over 30 years ago and has spent millions of dollars in research to develop high quality products that look amazing. James Hardie fiber cement siding is over five times thicker than vinyl siding. This means that textures and wood-grain effects can be better incorporated into the surface, giving a more natural look and feel compared to the more plastic appearance of vinyl. Fiber cement is also very resistant to heat and fire. It is very durable and offers the home protection against rain, snow, ice, heat and humidity. It won't absorb water and succumb to rotting as easily as wood does, and it can keep its shape longer, requiring less maintenance and care. Wood expands and contracts more than fiber cement under changing temperatures and conditions. This means the paint on wood is likely to peel or crack more quickly, demanding more attention to detail and spot repairs. Overall, fiber cement siding is a great option for the home due to its damage resistance, nontoxicity, and range of colors and styles that can mimic the appearance of stucco, masonry, or wood.
If you have any questions regarding Hedrick Construction's siding products or services, feel free to contact us today to receive more information. We will repair, replace, or install siding, house wrap, soffit, and fascia on your home, creating the aesthetic look you desire. We serve the Ames, Ankeny, Huxley, and Des Moines areas.