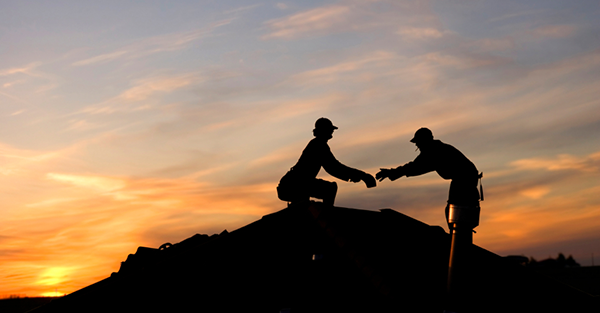 Installing a new roof is one of the biggest decisions you can make for your home. It is important that your roofing contractor is certified, experienced, and trustworthy. You need to know what questions to ask and what level of service to expect so you can choose a capable and competent roofing contractor to install a well-designed roof that will make a spectacular addition to your home.
Is your roofing contractor experienced and professional?
Hedrick Construction is located in Huxley, Iowa and serves the Ankeny, Ames, and Des Moines areas. We are an Owens Corning™ Platinum Preferred Contractor and Top of the House Certified. Hedrick Construction has been serving Central Iowa for over a decade, providing roofing installation and repair services as well as siding, gutters, and windows for both residential and commercial properties.
Platinum Preferred Contractor: Owens Corning™ Platinum Preferred Roofing Contractors are the top tier of a premier network of roofing professionals specifically chosen based on their commitment to service, reliability, and unparalleled craftsmanship. They are the only contractors who can offer the Owens Corning™ System Advantage® Platinum Roofing Limited Warranty, which not only provides our strongest coverage but also covers workmanship for as long as you own your home. –Owens Corning
Top of the House Certified: "These independent roofing contractors have been specially trained on how roofing, ventilation, and attic insulation work together to improve your home's energy efficiency and comfort." –Owens Corning
Is your roofing contractor trustworthy?
All Platinum Preferred Roofing Contractors have to continuously meet high standards and satisfy strict requirements:
They must be preselected for their commitment to customer service, business stability, and quality.
They must carry all required state and local licenses.
They must hold at least $1,000,000 in general liability insurance.
They must be in good standing with the Better Business Bureau.
They must be up to date with the latest industry standards and technology.
They must be certified to offer our extended Roofing System Limited Warranties, which provide up to a lifetime of workmanship coverage.
What should you ask your roofer before hiring?
Run through this list with your potential roofing contractor to verify that they are up for the job. Take your assessment seriously, and treat your meeting with a prospective roofer like an interview.
What to ask:
Will you perform a thorough inspection?
Will you install underlayment?
Will you follow the manufacturer's specifications?
Will you provide an explanation of my warranty?
Will you check for adequate ventilation?
Will you explain how my roofing system works?
What to Expect:
Adequate Insurance Coverage
Additional Warranty and Workmanship Coverage
Quality Materials
Written Estimates
Code Compliance
References
For a more in-depth explanation and details about what you should ask and what to expect from your roofing contractor, visit our blog article, "What To Expect When Getting Your Roof Replaced"
Hedrick Construction was founded on the principles of honesty, integrity, and quality. We are recognized by the Better Business Bureau for getting our work done right, on time, and on budget. Our reputation for quality and service has grown tremendously over the years as we complete more and more construction projects for satisfied customers. We will carry out your project with the utmost efficiency and commitment to quality, working with you every step of the way to ensure that everything is completed according to your specifications.