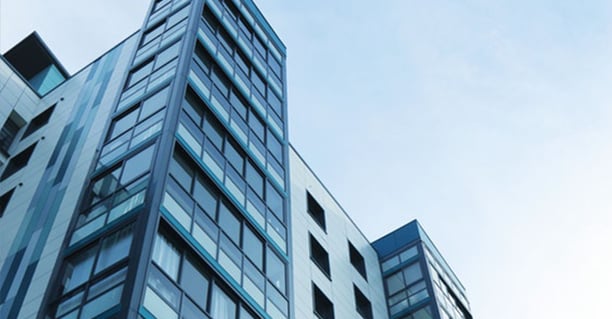 If you run a business, you have a lot on your plate; worrying about the roof over your head is the last thing you need. If your roof is leaking or otherwise showing that it's reaching the end of its life, you might need to make a decision about replacing your commercial roof quickly—before it causes any damage to your inventory or interruptions in your operations.
Commercial Roofing Basics
Commercial roofs have a few obvious, basic differences that set them apart from residential roofs. Commercial buildings tend to be much larger than typical homes, and their roofs tend to be mostly flat rather than pitched and gabled. Many commercial buildings don't have attics or other unfinished space between the roof and the interior workspaces. This can result in massive energy losses and skyrocketing winter heating costs as warm air rises out of work areas and escapes through old, poorly insulated roofs. Replacing an older roof with a modern, energy-efficient, well insulated new roof can have a significant effect on your business' bottom line!
Permits and Zoning
An important factor you must consider when preparing to re-roof a commercial building is the location of your property and the permits that may be required by your state, city, county, or municipality for the work. If your building is located in a more dense urban area, you may need permits for street closures, parking, and construction blockages while the work is ongoing. If your building is in a designated historic area or has landmark status, installing a new roof may require a more extensive approval and permitting process and require you use historically appropriate materials or designs. An experienced, professional roofing company can help guide you through the process of determining what permits you need and how to get them.
Choosing Materials
Many commercial buildings have a flat or low-slope roof. This makes it essential to use materials that work well to prevent water infiltration and encourage drainage, which may even require installation of a drainage system. Rubber roofing is an economical choice that works well on many flat roofs. Metal roofing, however, is a great long-term investment; although it is a higher up-front cost, it can last 50–70 years, requires almost no maintenance, and may even save money on your insurance premiums (because of its imperviousness to weather, fire, and other potential property damage). Whatever material you choose, proper installation and sealing is essential, especially along seams and around pipes, vents, skylights, and other penetrations.
Get Your Money's Worth
If it's time to replace your commercial roof, make sure you contract with an experienced roofing company that understands your needs and works with you to choose the best materials for your building and budget. Look for a company that warranties the quality of their work and will pass on the manufacturers' warranties for quality materials. Installing a quality commercial roof and scheduling regular roof inspections and maintenance will help you protect your organization's current and future assets. Contact the professional roofers at Hedrick to get a free estimate and schedule your Ames or Des Moines-area commercial roof replacement today.