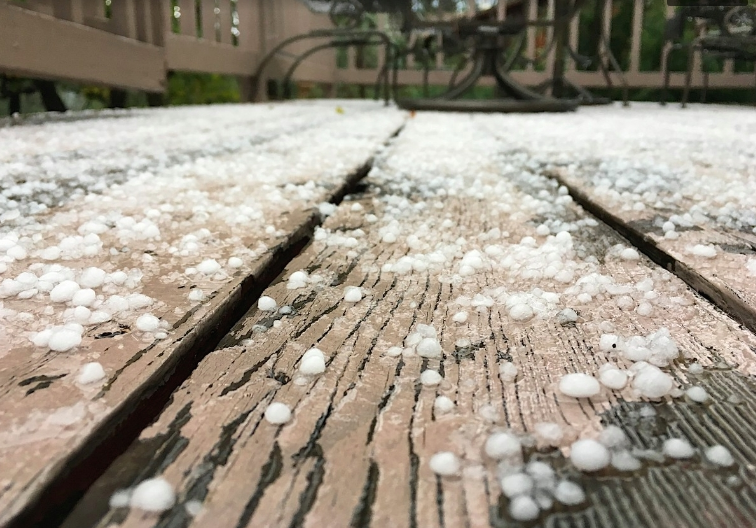 If the last storm damaged your roof, it's important to act quickly. If your roof is left exposed, the rain, hail, and strong winds that sweep through suddenly during the next big storm could cause extensive (and expensive) damage. Today, we're specifically addressing hail damage and why it's important to work with a local roofing contractor for repair work during the stormy season.
Avoid being scammed.
If a roofer or salesperson shows up on your doorstep right after a storm sweeps through, leaving hail damage to your roof, beware. While not every door-to-door salesperson has a sketchy agenda, some do. Storm chasers literally follow storm systems as they make their way through the country and offer to repair damaged roofs on the cheap. They will often show up unannounced and offer a free roof estimate, which will likely be deceptively low.
Instead of doing a thorough, professional job, the roofer will do the bare minimum on your roof, collect their money, and vanish without a trace. To avoid getting into this type of situation, make sure your prospective roofer provides the following before you agree to anything:
Save money.
Some local businesses will be willing to work with you on pricing to find a solution that fits your budget.
Choose someone you trust.
Choosing a roofing contractor you've worked with in the past or someone you know in your local community is worth a lot. If you don't know a roofer near you, ask your neighbors and friends in the area who they've worked with in the past and recommend. Word of mouth is one of the best ways to find a trustworthy roofing contractor who does quality work.
Support local business.
Supporting your neighbors and others in your community helps your local economy thrive.
Hold them accountable.
If you work with a local company, you'll be able to hold them accountable if something isn't done quite right or a follow-up visit is required. Unlike the storm chaser who disappears after the work is "done," you can easily call or visit your local roofer and make sure they finish the job the way you want it.
Get a quick response.
If you have an emergency, such as a sudden leak caused by a heavy hailstorm, you can call your local roofer to come out to your house promptly to fix the problem. Time is of the essence in emergency roofing situations. If your roofer isn't nearby, your home could experience serious structural damage that may be difficult or impossible to fix.
Work with someone familiar with the area.
A local roofer will be familiar with the weather, how different temperatures and humidity levels affect materials, and common problems that occur in your region. The more knowledgeable a contractor is with the local environment, the more apt they are to repair your roof effectively. In addition to finding a contractor that is familiar with the area, make sure you are prepared for the severe weather beforehand. Before the severe weather hits, ensure your home is prepared with our extensive guide to severe weather.
Hedrick Construction is located in Huxley, Iowa, and repairs and replaces roofs throughout much of Central Iowa. Learn more about summer roofing problems and how to solve them on our blog!