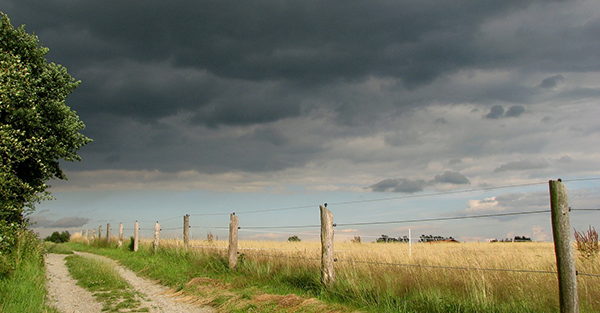 When people think of roofs, they usually think shingles. While the shingles are only one component of the roofing system, they are very important. They make up the outer layer of the roof that protects everything underneath. Shingles are also the component that usually takes the worst of storm damage to your roof.
If your shingles take a beating during a storm, your home could be left exposed to dangerous elements, such as ultraviolet radiation from the sun or moisture that can seep into your home and cause many major problems. Roof damage isn't always apparent immediately. It may be several weeks before an issue surfaces, but by that time, the damage may be extensive and very expensive to fix.
If you find out you need roofing repair after a big storm, contact Hedrick Construction in Huxley, IA.
How to Spot Common Spring Roof Damage
Wind
Strong winds can curl, lift the edges of, or blow shingles off your roof, leaving it exposed. The underlayment or roof deck will age and deteriorate faster when exposed to the elements, you could find yourself dealing with major leaks. Even if the shingles curl or lift just a bit, the bond that seals them together will break, and moisture will be able to seep easily into these vulnerable areas.
Hail Damage
Hail can leave dents or divots in shingles. If you see granules in your gutters or downspouts, your roof probably has been damaged by hail. Whether the shingles are blown off, lifting a little, or missing granules, it's important to have them repaired immediately.
Walk Your Yard
After a storm, walk around your yard. If you see a lot of debris or fallen branches on the ground, there's a good chance your roof took a hit during the storm. Heavy rain and strong wind can damage your gutters and downspouts. They may get blown out of place or even break off during a storm. Make sure to inspect and clean out your gutters before the next big storm hits. Consider purchasing gutter covers to keep out leaves and debris so water can flow through freely.
Inspect Your Roof
You can inspect your roof from the ground using binoculars. After a storm, your roof may be wet and slippery. We recommend you do NOT climb up onto your roof on your own for a couple of reasons. 1) Without the proper experience and equipment, the likelihood is greater that you will get hurt. 2) Walking on your roof can cause further damage. When inspecting your roof, check the shingles and flashing around your chimney and other structural elements on the roof. Also take a look inside your house for any signs of leaks. Check your attic for moisture, discoloration, and mold.
Annual Roof Inspection Can Save You Money

You should have your roof professionally inspected at least once a year. By doing so, you can catch any minor problems before they turn into major ones.
If you've inspected your property after a storm and think your roof may be damaged, contact a contractor you can trust. Remember, scammers follow storms and may come knocking on your door offering to repair the damage for you on the spot. Make sure whomever you hire can be trusted. They should be licensed, insured, and offer good warranties on their products. They should give you an estimate of how much they think it will cost to make the repair and use proven products to do the job.

Huxley Roofing Repairs
If you would like a roof inspection to ensure your roofing system is working properly or if you need repairs after a storm, give us a call! Hedrick Construction Inc. in Huxley, serving Ames, Ankeny, and all of Story County, is an Owens Corning Platinum Preferred Contractor. That means we are part of a premier network of roofing professionals chosen specifically for our commitment to service, reliability, and unparalleled craftsmanship. We offer the best warranties available, providing the strongest coverage and workmanship for as long as you own your home.